Guacamole: Syns on Slimming World
If you're making a Mexican dinner at home or fancy some chips and dips as a snack, avocado can be very high in calories, therefore if you are having Guacamole you need to make sure you are counting the syns in this dip.
Guacamole has varying syns according to its ingredients, on average you can expect it to have between 2.5-4 syns a serving, making it fairly low in syns, it should be consumed within moderation, however.
Down below in our syn guide, we will take you through how much Guacamole you can have on the slimming world plan, syn values of Guacamole and some low syn alternative dips. We've also included an SW recipe for making your own.
How Much Guacamole Can I Eat On Slimming World?
At 2.5-4 syns for a serving of Guacamole, you could have up to 4-6 servings before using all of your 15 syn daily allowance on the plan.
Guacamole can be high in syns since avocado itself is high in calories and fat, we, therefore, suggest having this avocado dip in moderation to avoid using too many syns. If you want to learn more about why avocado is so high in syns, see our guide here.
Guacamole Syn Values
As we mentioned above, Guacamole can have different syns according to the ingredients in the dip, to help you compare syns, we've listed a few options below.
Tesco Guacamole 163g - 4 syns.
Aldi The Deli Guacamole 150g - 4 syns.
Tesco Guacamole 163g - 2.5 syns.
Old El Paso Squeezy Chunky Guacamole 240g - 0.5 syns.
Sainsbury's Cool Guacamole 170g - 3 syns.
Lidl Meadow Fresh Chunky Guacamole 163g - 2.5 syns.
Asda Guacamole 150g - 3 syns.
Co-op Guacamole Dip 170g - 2.5 syns.
M&S Chunky Guacamole Dip 170g - 4 syns.
Morrisons Guacamole 150g - 3 syns.
Waitrose & Partners Guacamole 170g - 3.5 syns.
Lidl Batts Squeezy Guacamole 290g - 1 syn.
Lidl Meadow Fresh Jalapeno Guacamole 163g - 2.5 syns.
Ocado Guacamole - 4 syns.
Low Syn Alternatives To Guacamole
If you find Guac to be too high in syns, and want to compare some over low syn alternatives for dipping or your homemade nachos, we've got some excellent options for you to check out below.
Taramasalata - 13 syns a portion.
Mild Salsa - 1 syns a portion.
Sainsbury's Tzatziki 200g - 3.5 syns.
Cheese & Chive Dip - 7 syns a portion.
Aioli Dip - 16 syns a portion.
Cream & chive - 6 syns.
Onion & Garlic Dip - 6 syns.
Tesco Tzatziki Dip 200G - 3 syns.
Ocado Tzatziki 200g - 3 syns.
Reduced-Fat Houmous - 6 syns.
Caramelised Onion Houmous - 5 syns.
Houmous - 16.5 syns.
Our SW Guacamole Recipe
If you find some supermarket Guacamole to be too high in syns, why not try making our SW pea guacamole as an alternative, this is also syn free!
Ingredients
Cup of peas.
Half of the red onion.
1 garlic clove
Coriander.
One jalapeno.
One tomato diced.
One garlic.
Four spoons of quark.
Half a lime.
Seasoning.
50g of Avocado (4 syns).
Method
Put the jalapeno, onion, garlic and coriander into the blender then blitz, add the tomato and lime juice, and be careful not to over blend.
Put everything in a bowl then put the peas and quark in a processor and mix in the avocado and season, store in a fridge.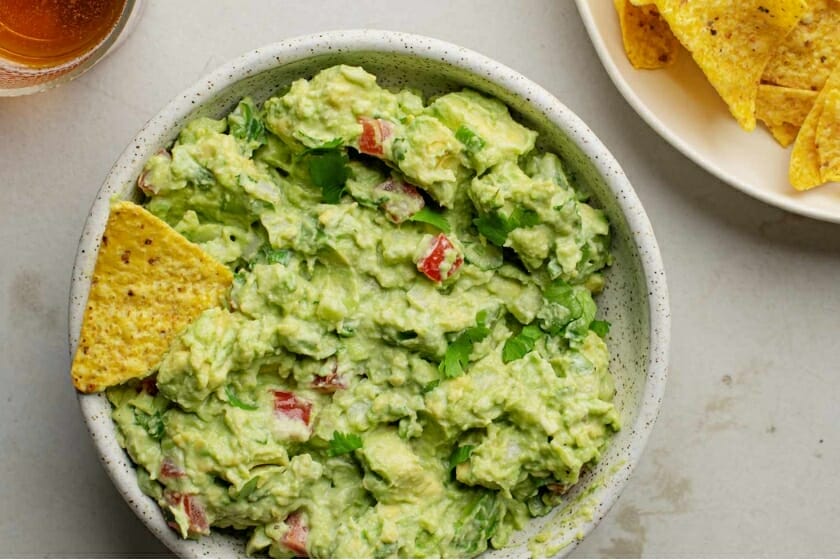 Final Words
Overall, Guacamole is high in syns, having between 2.5-4 syns a serving, this is because it contains avocado which is generally high in fat and calories. To save syns, we recommend checking alternative dips like Tzatziki (we have a syn list here) or making your own guacamole at home with peas which are syn free!