Is Isey Skyr Yogurt High In Syns? Can I Have This Yogurt On Slimming World?
Yoghurt is a great high-protein snack on the go or as a quick breakfast topped with some fruits and granola, but is Isey Skyr yoghurt in particular syn-friendly on the Slimming World plan?
Isey Skyr yoghurt has three syns per serving, making it an excellent high-protein, low-fat yoghurt on the plan; you could have up to five before using all of your 15 syn daily allowances.
In our syn guide below, we will take you through why Isey Skyr yoghurts have syns, some syn values of their whole range and low-syn Skyr yoghurt alternatives for satisfying snacks.
Why Do Isey Skyr Yogurts Have Syns?
At 3 syns a serving, Isey Skyr yoghurts are syn-friendly, allowing you to have around five on the plan before using all your allowance.
The syns in these Skyr yoghurts come from the flavours in the yoghurts, which often contain added sugar; for example, the vanilla bean flavour has around 6 syns for the whole pot and 11g of sugar due to the flavours.
This being said, you could find low-sugar versions of these yoghurts and syn-free options such as their plain fat-free versions; add your fruits and honey to have more control over the syn content of your yoghurts.
Syn Values Of Isey Skyr Yogurts
Since the syns in Isey skyr yoghurts can vary according to the flavour you choose, we've rounded up their whole range below, along with their syn values so that you can keep on track.
Most of these are based on a 100g serving.
Isey Skyr Baked Apple Yoghurt 450g - 2.5 syns.
Isey Skyr Vanilla High Protein Fat Free Yogurt 170g 2.5 syns.
Isey Skyr Protein Yogurt Blueberry Flavour 170g - 4 syns.
Isey Skyr Yoghurt Strawberry Flavour 170g - 4 syns.
Isey Skyr Mango 170g - 3 syns.
Isey Diet Skyr Mango Yogurt 170g - 3 syns.
Low Syn Alternatives To Isey Skyr Yogurts
If you find Isey Skyr yoghurts too high in syns and sugar, there are plenty of low-syn alternatives for high-protein snacking.
Arla Skyr Pear, Apple & Cinnamon Yogurt, Limited Edition (150g pot) – 1.5 syns.
Arla Skyr Peach & Raspberry Yogurt, Limited Edition (150g pot) – 1.5 syns.
Fage Total 0% Fat-Free Greek Yogurt with Raspberry & Pomegranate (170g pot) – 2 syns per pot.
Danone Activia 0% Fat Yogurt Strawberry, No Added Sugar (per 100g) – 1/2 syn per serving.
Brooklea Light Fat-Free Yogurt. Mint & Dark Chocolate – 1 1/2 syns.
Alpro Soya Yogurt Cherry, No Added Sugars (400g pot) – 2 syns.
Weight Watchers Fat-Free Toffee Yogurt (110g pot) – 1/2 syn per pot.
Arla Skyr Sour Cherry Yogurt (150g pot) – 2 syns per pot.
Arla Skyr Mixed Berry Yogurt (150g pot) – 2 syns per pot.
Onken Light & Fruity Blueberry Yogurt, 0% Fat & 0% Added Sugar (450g pot) – 1 1/2 syns.
Muller light Fruitopolis Greek Style Yogurt, Red Cherry (130g pot) - 0.5 syn.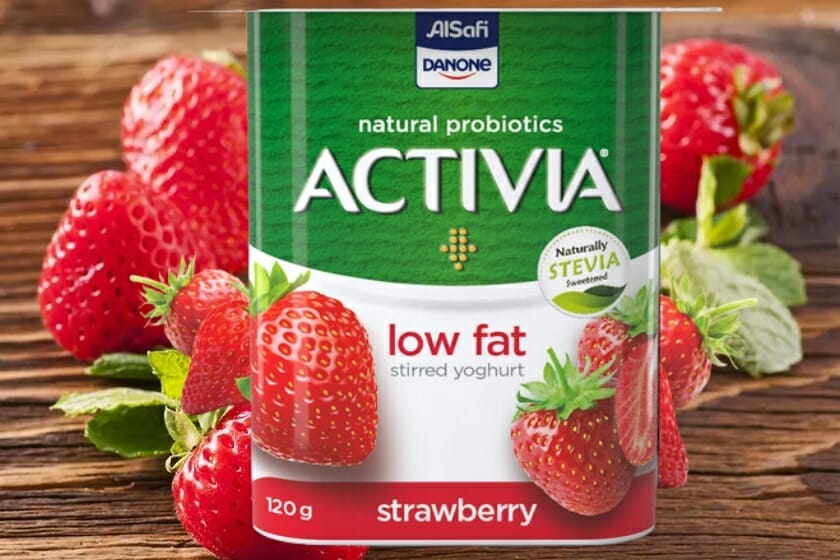 Final Words
Overall, Isey skyr yoghurts have around 3.5 syns on average per yoghurt, but you can also find options as low as 2.5 syns to 5 syns. Syns in these yoghurts depend on the flavouring and sugar added; for syn-free alternatives, we recommend picking plain zero-fat yoghurts.
We have a great syn guide to syn-free yoghurt options here; this way, you can add syn-free fruit for flavouring instead of opting for high-sugar processed yoghurts.