Traditional Mince Pie Recipe (Filo Style)
Everyone loves a mince pie, especially around the (but definitely not limited to) festive season, however, homemade mince pies are even better than shop-bought, allowing you to have that extra satisfaction when you serve them on the table.
If your not a traditional mince pie fan, then this filo mince pies recipe is for you, as it uses light and crunchy filo pastry rather than a heavier crust, meaning its more about the filling, allowing you to serve them as light appetisers too.
Wait...Where Did Mince Pies Even Come From?
If your new to mince pies or your not British then you might be wondering what a mince pie actually is and how did they come about?
Well, mince pies have been around since the 13th century and consist of dried fruit and Christmas spices which make up the 'mincemeat'.
So now you probably asking yourself where the term mincemeat came from? Long ago, these pies were filled with meat and fruit such as lamb and served in an oblong shape to represent Jesus's manager, this combination was actually inspired by the middle eastern cuisine which mixed meat, fruit and spices.
Why Should I Go For Filo Pastry?
Filo pastry is a lighter option than shortcrust pastry, meaning its nicer to your waistline and also not as filling, making them a perfect choice to have with a cup of tea or as an appetiser of the sort.
They also add a bit of texture with a crunch, allowing you to focus on the sweet mincemeat inside.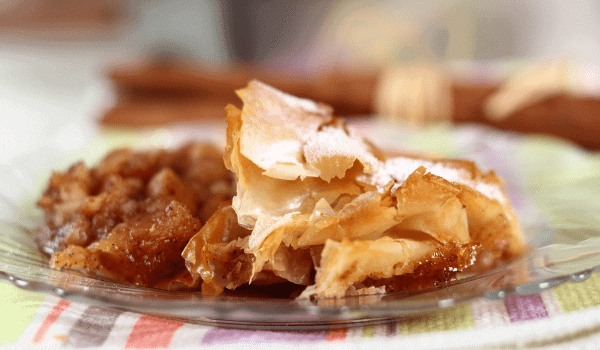 So without further ado, let's get into our filo mince pies recipe!
Our Filo Mince Pie Recipe
What you need to know
Preparation time - Under 30 minutes
Making time - Up to 30 minutes
Serving size - Makes 12 filo mince pies
Ingredients
The Filling
3 apples
1 pear
100g of raisins
100ml of apple juice
50g of pecan nuts
1 tsp of mixed spice
2 tsp of cinnamon
1/2 teaspoon of ground cloves
1 vanilla pod or a teaspoon of vanilla essence
1 orange zest grated
Pinch of black pepper
3 tablespoons of cider
The Pastry & Pie
12 filo pastry sheets
Veg oil spray
1 egg
50g of icing sugar
1 tsp of vanilla extract
The Making
Firstly, make sure to set your oven to Gas mark 4 or 180 degrees then place a baking tray in the bottom of the oven to preheat. Grease your muffin tin with some of your veg oil spray.
Take a saucepan and place all your mincemeat ingredients into it, allow your ingredients to cook slowly for around 10 minutes on medium heat.
Now its time to make the pies, lay your filo sheets out and cut them in half width way, any you are not using you can cover with a damp towel to prevent them from drying out. After this initial cut, you can make two more, meaning you should be left with around four stacks of 12cm pastry squares.
Grab your muffin tray and line the holes with three sheets of filo, make sure your pastry is pressed flat down and overlapping as this will encase the filling. You should have around 12 squares of pastry left over.
Bake this lined muffin tin in the preheated oven for 10 mins to allow the sheets to harden like a case.
Divide your made up mincemeat filling in between each pie then place the remaining of the filo pastry sheets on top (one each). You can either scrunch it up on top or place it gently and brush it with your egg to create a golden finish.
Bake your ready-made pies for around 10 minutes in your pre-heated oven or until the filo crisps up and becomes golden, once out you can dust them with icing sugar for a festive finish.
Our Tips & Tricks For This Recipe
Try making your mincemeat in advance for a better-infused flavour or add a dash of your favourite brandy.
Using scissors for cutting your pastry will be much easier than using a knife.
For a more luxurious appetiser, you could try serving these filo mince pies with some Greek yoghurt.
Placing a baking tray pre-heated under your muffin tin will help the pies crisp up well underneath while baking.
You could make this recipe vegan friendly by using vegan butter to brush your pastry before putting the pies in the oven.
If you are short on time, you can use pre-prepared mincemeat from the shops to fill your filo pies.
For storage its best to keep these pies in an airtight container for up to 4-5 days.
Last Words
We hope you enjoy this lighter version of a traditional mince pie, homemade festive treats like these truly do taste a world away from shop-bought pies.
If you liked this filo mince pies recipe, please leave a comment below, or if you tried a variation, we would love to hear from you too.
Thanks for checking out this recipe and happy mince pie making!