Low-Syn Slimming World Cheesecake Recipes: 8 to Try in 2023
One of the best parts about the Slimming World plan is that you can eat what you want in moderation on the plan, whether you fancy some chocolate or a slice of cheesecake.
But what about making your own Slimming World version of a cheesecake so you can save syns?
We've done the hard work for you and rounded up our best Slimming World cheesecake recipes below for an indulgent sweet treat without the guilt!
How Many Syns Does Regular Slimming World Cheescake Have?
Before we get into our best Slimming World cheesecake recipes, let's start with regular biscuit cheesecake and how many syns it can have on the SW plan.
Cheesecakes syns change according to the flavour and type of cake, on average, however, you can expect a slice of cheesecake to have around 15 syns, making this cake very high in syns!
How Do I Make Cheesecake More Slimming World Friendly?
To make a cheesecake more Slimming World friendly, you simply need to swap out some of the high-calorie ingredients for more SW-friendly options.
We've listed some easy swaps you can make when making a cheesecake to make it more SW friendly below.
Use Quark & light cream cheese - Having a combination of light cream cheese like Philadelphia light and quark instead of full-fat cream cheese in a proper cheesecake can make this treat much healthier.
Change the biscuit base - Use chewy cereal bars or lighter digestive biscuits for your base.
Keep the butter low fat - If using butter when making your cheesecake, switch to low-fat spread to save syns.
Cut the sugar - Use sweetener instead of sugar, this saves a massive amount of calories in your cheesecake but still tastes just as good!
Our Top 8 Slimming World Cheesecake Recipes
To save you time thinking about how to bake your own SW cheesecake or searching the internet for Slimming World-friendly cheesecake recipes, we've done the hard work for you and rounded up our five best slimming world cheesecakes recipes for you to try making at home.
The Basement Bake House No Bake Cheesecake
If you are short on time and don't fancy turning on the oven, why not try making this syn free no bake cheesecake from basement bake house at home?
This cheesecake recipe uses special K chewy bars as your healthy extra B to make a delicious cheesecake base and the creamy cheesecake filling is a combo of quark and light Philadelphia to keep it syn-free.
We've linked the recipe details here.
Tastefully Vikki Quark Cheesecake
Making a quark cheesecake at home is one way to use up that tub of quark sitting in the back of the fridge!
The Tastefully Vikki recipe switches out regular high-syn butter in the cheesecake mix for low fat spread and has sweetener instead of sugar to keep it sweet.
This cheesecake can serve eight people making it a good choice for a family dessert as a delicious treat, recipe here.
Vanilla Quark Cheesecake
If you are a lover of vanilla cheesecake, the good news is you can make your own at home which has 8 syns a portion instead of a whopping 15!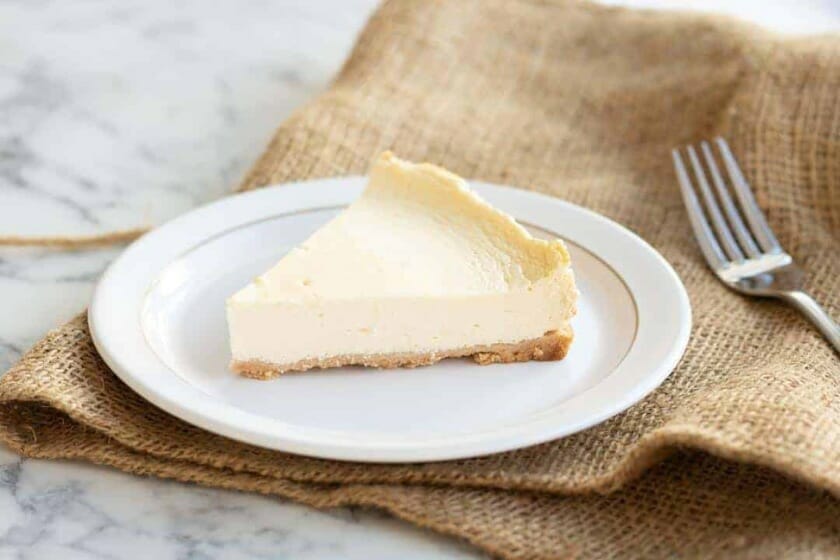 For this recipe by just average Jen (which you can try here), you will need some chocolate hobnobs as your base, reduced fat spread, quark and sweetener to make a proper cheesecake mix.
Chocolate No Bake Cheesecake By Slimming Eats
Fancy a chocolate flavour cheesecake? No problem, this easy bake recipe from slimming eats keeps its filling sweet with granulated sweetener and quark, it uses sweet freedom choc syrup to keep the filling chocolaty without the syns.
Best of all, oreo biscuits are used as your base! This cheescake serves one and has 8 syns a slice.
Slimming World New York Cheesecake Recipe
There's nothing quite like a New york cheesecake, but with the average slice using your whole daily syn allowance the plan, these cakes are best avoided.
However, this Slimming World friendly recipe from Slimmers Delight is an excellent alternative, keeping the biscuit crumbs healthy by using digestive biscuits and flora light for the buttery biscuit base and quark plus eggs for the filling.
We've linked the whole recipe here.
Cheesecake In a Jar
For a single-serving cheesecake, this cheesecake in a jar recipe by This Mama could be a great choice (full recipe here).
All you need is a jar, some quark, fat-free yoghurt, berries and some sweetener as well as digestive biscuits for the biscuit crumbs base. Chill and enjoy!
Strawberry Greek Yoghurt Cheesecake
For a lighter homemade cheesecake, why not try making your cheesecake with some Greek yoghurt? The recipe from slimming eats uses Muller light fat free vanilla yoghurt for the filling, hobnob cookies as the base, choc freedom syrup for the drizzle and fresh strawberries.
The whole cheesecake serves 3 people and has 6 syns a serving, you can find the recipe here.
Our Best SW Cheesecake Recipe
If you're looking to save some syns and still enjoy some cheesecake for dessert, you can also try our recipe below.
This recipe below has chocolate and vanilla in and 6.5 syns a serving, making it a great alternative to traditional cheesecake which has 15 syns a slice.
Ingredients
Seven bourbon biscuits crushed up.
700g of fat free vanilla yoghurt.
35g of melted low-fat spread.
Drop of vanilla extract.
10g sachet of gelatin.
150g of quark.
Two tbsp of sweetener.
One tsp of cocoa powder.
35g of broken-up dark chocolate.
Method
Begin by mixing the crushed biscuits with your low-fat spread to create a buttery biscuit mixture then press the mixture down into a non stick cake tin firmly. Cover and pop in the fridge for around 30 minutes.
Now melt your jelly with a cup of boiling water, allow the gelatin to cool down and then put into your food processor with the yoghurt, quark, sweetener and vanilla extract.
Chill until set. Once set you can melt the chocolate down using a double boiler method and drizzle the cake with this mix, dust with the spoon of cocoa powder and enjoy!
Final Words
Overall, Cheesecake can be very high in syns, having 15 syns per portion which is your whole daily syn allowance.
To reduce syns we suggest making your own cheesecake at home with low syn/syn free ingredients such as quark for the filling and zero-calorie sweetener as a replacement for sugar.
Most of these recipes above are below 8 syns, making them an excellent alternative to traditional cheesecake, for other recipe ideas, check out our best recipes here.