Is Pepperoni High In Syns On Slimming World? - Our Guide!
Pepperoni slices help make a quick sandwich, snack, or an easy pizza, but this red meat is very processed and not a free food on the slimming world, so how many syns does it have?
Pepperoni slices on average have 5 syns a serving, making them high in syns for small portion size, we would recommend eating these cold meats in moderation to avoid using too many syns.
We've put together a short guide below which will discuss why pepperoni is so high in syns, some syn values of pepperoni and low syn alternative cold meats for an easy snack/meal.
Why Is Pepperoni So High In Syns?
Pepperoni is very calorie-dense and high in syns for small serving size, having up to 5 syns a portion making it easy to overeat. This processed meat is high in syns due to sodium, sugar, preservatives, and saturated fat inside it.
For example, 50g of deli pepperoni slice has around 7.5 syns, 17g of fat (5g of which is saturated) and nearly 2 grams of salt, making it not the healthiest choice of sandwich filler. You could have up to 100g before using all your daily syn allowance.
One plus point to pepperoni is that it is high in protein, with a 50g serving has around 8g of protein.
Syn Values Of Pepperoni
To help you compare the syns of pepperoni, we've listed some syn values of different brands below.
Aldi The Deli Hot Pepperoni Slices 120g - 10 syns for a 1/3.
Tesco 36 Pizza Pepperoni Slices 120g - 5 syns.
Morrisons German Pepperoni 24 Slices 120g - 2.5 syns a serving.
Aldi The Deli Mild Pepperoni Slices 120g - 10 syns for 40g.
Sainsbury's Italian Style Pepperoni 12 Slices 42g - 0.5 syns for one.
Deli Culture 24 Pepperoni Slices 250g - 1.5 syns.
Quorn Vegetarian Pepperoni Slices 100g - 2.5 syns a serving.
Co-op Pizza Pepperoni 27 Slices 90g - 5 syns.
Delicatessen Fine Eating Pepperoni 20 Slices 90g - 1 syn.
Waitrose Pepperoni 48 Slices 100g - 4.5 syns.
Sainsbury's Basics 16 Spicy Pepperoni Slices 60g - 3.5 syns.
Low Syn Alternatives To Pepperoni
If you find pepperoni to be too high in syns and you are looking for a low syn cold meat replacement, we've got some other low syn alternatives for you to check out below.
Tesco Finest Parma Ham 78g - 1.5 syns.
Sainsbury's Italian Parma Ham 6 Slices 80g - 3.5 syns.
M&S Prosciutto di Parma 14 Month Matured Parma Ham 80g - 5.5 syns.
Tesco Finest 4 Slices Parma Ham 50g - 1.5 syns a serving.
Tesco Finest Spanish Chorizo 225g - 10 syns for half.
Peperami Original Salami 22.5g - 5.5 syns.
Tesco 12 German Style Salami Slices 125g - 5 syns.
Tesco 6 Prosciutto Crudo Slices 84g - 3 syns.
Tesco Eastman's Deli Foods Proper Tasty Wafer Thin Cooked Ham Slices 400g - 1.5 syns for two slices.
Asda Honey Roast Ham Wafer Thin 200g - 3 syns a portion.
Sainsbury's 5 Prosciutto Crudo 70g - 3.5 syns two slices.
Aldi The Deli German Salami 135g - 1 syn.
Tesco 10 Salami Slices 100g - 3.5 syns for two.
Morrisons German Garlic Sausage 10 Slices 120g - 1 syn.
Sainsbury's 30 German Cooked Sausage Selection 100g Bierwurst Sausage - 2 syns.
Aldi Specially Selected Spicy Spanish Chorizo Ring 200g - 7 syns.
Sainsbury's Spanish Spicy Chorizo Ring 225g - 7 syns.
Last Words
Overall, pepperoni is very high in syns, having around 5 syns for a small portion, making it easy to overeat and indulge in, it's also high in saturated fats and sodium due to the processing, so we would only advise eating small portions.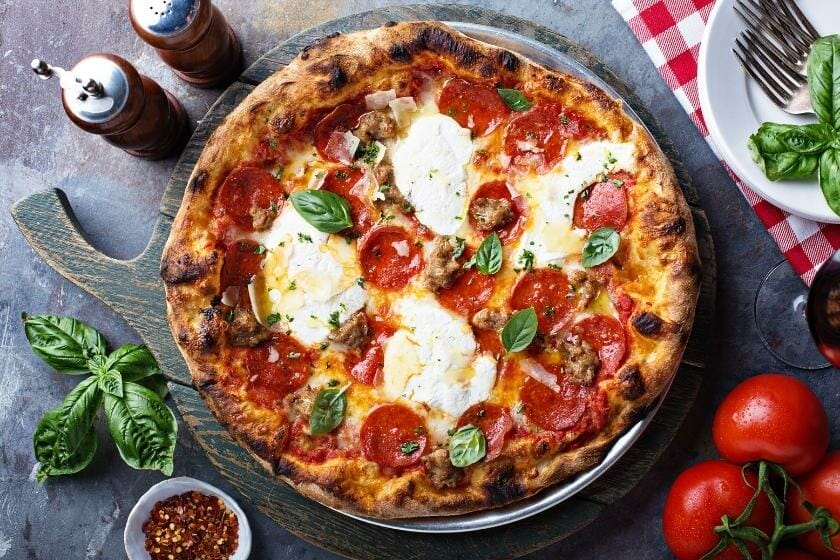 To save syns, we recommend choosing a normal wafer ham rather than processed meats which can often be higher in sodium and fat.