Can I Eat Frazzles On The Slimming World? Are They Syn Friendly?
If you are the type of person who likes to snack during the day, you might be looking for some low syn crisp options, but what about Frazzles? Are they low in syns?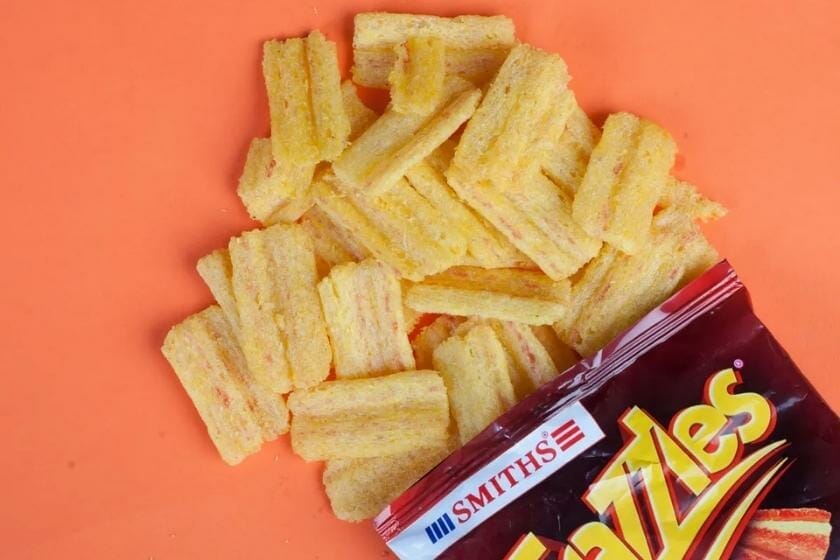 Frazzles have 7 syns for a 30g bag, making them very high in syns, with just one bag consuming half of your daily syn allowance for the day we would suggest eating these bacon flavoured crisps in moderation to avoid using too many syns.
In our guide below, we've discussed what makes Frazzles so high in syns, syn values and some low syn bacon crisp alternatives for a syn friendly snack.
What Makes Frazzles So High In Syns?
One 30g pack of frazzles can have up to 7 syns, consuming half of your 15 syn allowance, these crisps are high in syns due to the high sodium and fat content, with a 30g packet having up to 6g of fat.
Frazzles do have a smaller pack size of 18g however, this only has 4 syns a pack, making it a better low syn snacking choice, they also tend to have less fat than other crisp types since they are baked and not fried.
Frazzle Syn Values
Frazzle crisps come in a few different varieties with different sizes, to avoid confusion, we've listed all their syn values below so you can stay on track with your syns.
Smiths Frazzles Crispy Bacon Multipack Snacks 8x18g - 4 syns (also check Smiths Chipsticks).
Smiths Frazzles Crispy Bacon Snacks 34g - 8 syns.
Smiths Frazzles Crispy Bacon Snacks 75g - 7 syns.
Smiths Variety Multipack Snacks 24 Pack Frazzles Crispy Bacon Flavour Corn Snack - 4.5 syns.
Smiths Frazzles Crispy Bacon Snacks PMP 43 G - 10.5 syns.
Smiths Frazzles Crispy Bacon Snacks 7x23g - 5.5 syns
Low Syn Alternatives To Frazzles
If you find frazzles to be too high in syns, we've got some other low syn bacon crisps to check out below for when you get the munchies.
Wheat Crunchies Crispy Bacon Crisps 20g - 5 syns.
Walkers Smokey Bacon Crisps 25g (from Multipack) - 6.5 syns.
M&S Reduced Fat Bacon Rashers Crisps 6 x 18g - 3.5 syns.
Aldi Snackrite 6 Pack Thick Cut Ridged Meaty Variety Crisps 180g - Bacon Sizzler Flavour - 7.5 syns.
Aldi Snackrite Assorted Flavour Crisps - Smoky Bacon Flavour - 6.5 syns.
Pringles Smokey Bacon Flavour Sharing Crisps 200g - 6.5 syns.
Asda Meaty Variety Flavour Crisps 6 x 25g (150g) Smoky Bacon - 7 syns.
Tesco Free From Bacon Rashers Crisps 150g - 6 syns.
M&S Bacon Rashers Crisps 50g - 6 syns.
Lidl Snaktastic Ridge Cut Meaty Crisps - Bacon Sizzler Flavour Crisps 30g - 6 syns.
Boots Shapers Crispy Bacon Flavour Bites 21g - 5 syns.
Tayto Smoky Bacon Flavour Potato Crisps 37.5g - 10 syns.
Morrisons Meaty Variety Potato Crisps 6 x 25g (150g) Smoky Bacon Flavour Crisps - 6.5 syns.
Tayto Smokey Bacon Flavour Potato Crisps 45g - 12 syns.
Sainsbury's Meaty Variety Assorted Crisps 12 x 25g (300g) Smoky Bacon - 6.5 syns.
Mackie's of Scotland Crispy Bacon Flavour Potato Crisps 150g - 7.5 syns.
Final Words
Overall, Frazzles are a high syns crisp snack due to their high fat and sodium content, coming in at 6 syns for just 30g. We would suggest having their smaller sized 18g bag of crisps which have only 4 syns instead or check out our low syn alternatives above for a savoury snack.