Is A Snowball High In Syns On Slimming World? - Our Syn Guide!
If you're craving something sweet for dessert, you might feel like a coconut snowball, but how many syns do these chocolate-covered sweets have on the slimming world plan?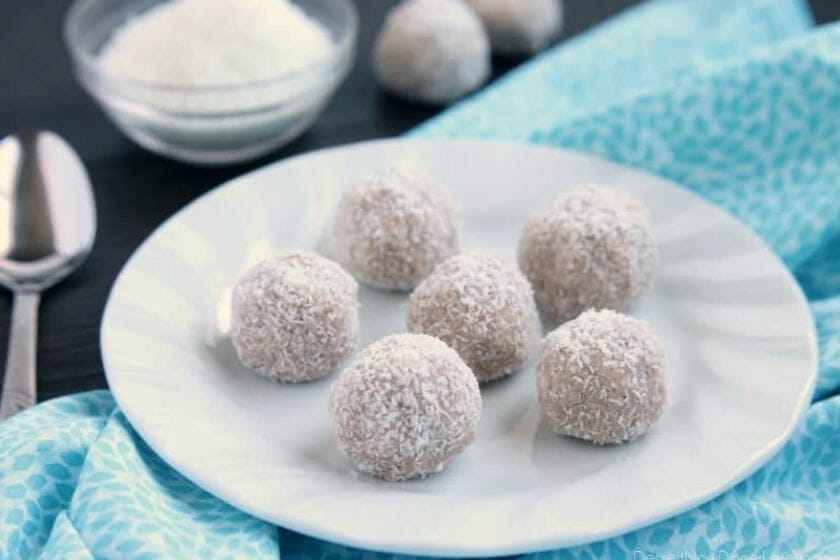 A snowball sweet/dessert has varying syns according to the size and how it's made, on average you can expect one snowball to have between 6-12 syns, with mini snowballs starting as low as 2.5 syns.
We've put together a syn guide below which will take you through why snowballs are high in syns, some syn values and low syn alternative coconut chocolate desserts for when you feel like something sweet.
Why Are Snowballs So High In Syns?
At 6-12 syns for a snowball, these coconut-covered chocolates are very high in syns, allowing you to have between 1-2 or more depending on the size before using all of your 15 syn daily allowance.
These snowballs get their high syn value from the chocolate and sugar in the coconut, the mallow inside of these chocolates is also high in fat. For example, one Lee's snowball has 9g of sugar in and 3g of fat in, they have around 4 syns in total per ball making them one of the healthier options.
Snowball Syn Values
Snowballs have various syns according to the brand you buy from and the size, we've listed some syn values to help you out down below.
Tunnock's Snowballs Coconut Covered Marshmallows 6 x 30g (180g) - 6 syns.
Lees' 12 Snowballs 171g - 3.5 syns.
Lees' 18 Mini Snowballs 200g - 2.5 syns.
Cadbury Chocolate Mini Snowballs Bag 80g - 4 syns.
Mathiesons 4 Snowballs - 11.5 syns.
Asda Baker's Selection 14 Mini Snowball Bites 160g - 2.5 syns.
Bobby's Mallow Snowballs 146g - 4 syns.
Sainsbury's Milk Chocolate Snowballs 85g - 4.5 syns.
Ringtons 6 Snowballs 180g - 6 syns.
M&S Christmas Mint Snowballs 75g - 6 syns.
Aldi Kingdom 4 Snowballs 300g - 12.5 syns.
Low Syn Alternatives To Snowballs
If you find coconut chocolate snowballs to be too high in syns, we've got some great low-syn chocolate coconut sweet treats and desserts for you to check out down below.
Bliss Dark Chocolate & Coconut Whip Bars 5 x 25g (125g) - 5 syns per bar.
The Coconut Collaborative Dairy Free Chocolate Pots 4 x 45g - 5 syns.
Saint Coconut & Chocolate Cereal Bars 105g - 5 syns.
Tesco Coconut & Chocolate Granola Bars 6 x 30g (180g) - 7.5 syns.
Tesco Jaffa Cakes Twin Pack 282G - 2.5 syns.
Cadbury Oreo Cadbury Coated Biscuit 164G - 5 syns.
Bolands Jam Mallows 250G - 2.5 syns.
E Wedel Supreme Raspberry Jaffa Cakes 147G - 12.5 syns.
The Coconut Collaborative Dairy Free Salted Caramel Chocolate Pots 4 x 45g - 7 syns.
Eat Natural Simply Vegan Peanuts, Coconut and Chocolate Fruit & Nut Bar 45g - 11 syns.
TREK Cocoa Coconut Protein Flapjack Chocolate Flavour Topped 50g - 11.5 syns.
Lindt Lindor Coconut Chocolate Truffles Box 200g - 4 syns per one.
Sweet Freedom Choc Shot Coconut Liquid Chocolate 320g - 0.5 syns.
Vita Coco Choc-o-lot Chocolate & Coconut Drink 1L - 1 syn per 100ml.
Exante Diet Chocolate Coconut Bar 65g - 10 syns.
Alpen Coconut & Chocolate Bar 29g - 6 syns.
Wagon Wheels Jammie 6 Pack - 8 syns.
Tunnocks Milk Chocolate Teacakes 6X24g - 5 syns.
Final Words
Overall, Snowballs can be very high in syns due to their chocolate coconut coatings, with some containing mallow too which is very high in sugar. To save syns we recommend picking mini snowballs which are often much lower in syns or choosing a sweet treat from our low syn alternatives above which start as low as 2.5 syns.