Is Smoked Haddock High In Syns? Can I Have This Fish On Slimming World?
On the slimming world plan, foods like fish are luckily syn-free, same goes for lean meats, making them great protein sources with some speed veg for dinner, but what about smoked haddock, is this still syn free?
Smoked haddock is indeed syn-free on the slimming world plan, just make sure to buy the fish from the supermarket which is not marinated in any oil, since this can add hidden syns.
We've put together a syn guide below which will discuss why smoked haddock is syn free, some syn values of haddock in general, alternative smoked fish and a great SW recipe using haddock for a syn free dinner.
Why Is Smoked Haddock Syn Free?
Most fish is syn free on the slimming world, including smoked haddock, this is because the smoking process doesn't add any extra calories to the fish or oil, keeping its calories the same.
This means you can have as much smoked haddock as you want on the SW plan without having to track its syns, pairing it with rice/pasta and some speed veg can make a healthy SW meal.
That being said, we recommend watching out for fishcakes with smoked haddock, since these can often have lots of syns in them due to the extra ingredients.
Syn Values Of Haddock
Most haddock is syn free on the slimming world plan, however, haddock made into other meals like fish cakes can often have syns if you're not careful.
We've listed some general syn values of haddock below, to help keep you on track with your syns.
Smoked Haddock Fillets, Steamed - Syn free.
Smoked Haddock Fillets, Poached - Syn free.
Morrisons The Best 2 Salmon, Smoked Cod & Haddock Fishcakes 290g - 11.5 syns.
Aldi Specially Selected 2 Melt In The Middle Smoked Haddock Fishcakes 300g - 13 syns.
Sainsbury's Taste the Difference 2 Smoked Haddock Fishcakes 290g - 10 syns.
M&S Food Chunky Smoked Haddock Chowder 600g - 3 syns.
Asda 4 Smoked Haddock Fillets 400g - Syn free.
Tesco 2 Smoked Haddock Fishcakes 270g - 9 syns.
Haddock, Coated In Breadcrumbs, Frozen, Fried In Oil - 10 syns per 100g.
Fish & Chip Shop - Battered Haddock - 11.5 syns.
Low Syn Alternatives To Smoked Haddock
If you are curious about the syns in other kinds of smoked fish, we recommend checking out our syn free and low syn alternatives below.
Smoked Mackerel, No Skin - Syn free.
Smoked Salmon - 3.5 syns.
Mackerel Pate, Smoked - 7.5 syns for 50g.
Aldi The Fishmonger Smoked Mackerel Fillets with Cracked Black Pepper 200g - 15 syns.
Aldi The Fishmonger Hot Smoked 2 Sweet Chilli Salmon Fillets 185g - 12 syns.
Asda 2 Smoked Basa Fillets 230g - Syn free.
Our Favourite SW Recipe With Smoked Haddock
If you have some smoked haddock lying around in the freezer and you are looking for a great SW meal to make at home, this recipe below is syn free and healthy for a quick and easy dinner.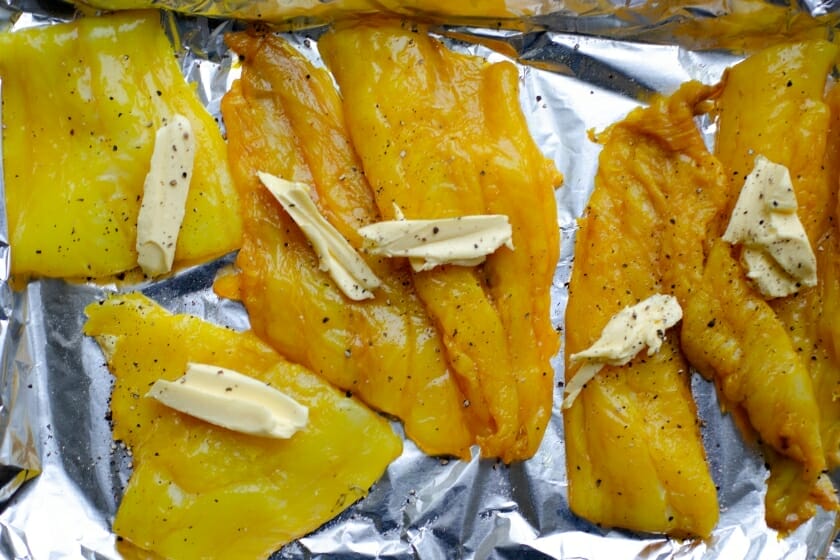 Ingredients
Four eggs boiled.
300g of smoked haddock.
250g of rice.
Frozen peas.
600ml of water.
One onion.
Veggie stock.
Spices; curry powder, turmeric, ground coriander, bay leaves.
Lemon juice.
Method
To begin start by poaching your fish in a pan with the bay leaves and water.
Next, remove the fish, then start frying off the onions, spices and pour the liquid plus stock into the pan. At this point, you can also remove any bones and flake the fish.
Add in the peas plus rice and cook until the rice has absorbed the water, add the fish and lemon juice in the last 10 minutes of cooking.
Boil eggs, top and serve!
Last Words
Overall, smoked haddock is syn free on the slimming world plan, as well as most smoked fish.
The only fish which is synned on the SW plan are options which have marination since they often contain oil as well as breaded fish or fish cakes.