Are Fish Cakes High In Syns On Slimming World?
Fish cakes make an easy weeknight meal, but since these cakes are typically breaded, this means they have syns on the slimming world plan.
Fish cakes differ in syns according to their ingredients and the brand, but on average you can expect fish cakes to have between 9-13 syns a cake, making them very high in syns, we would recommend only eating these cakes in moderation on the SW plan.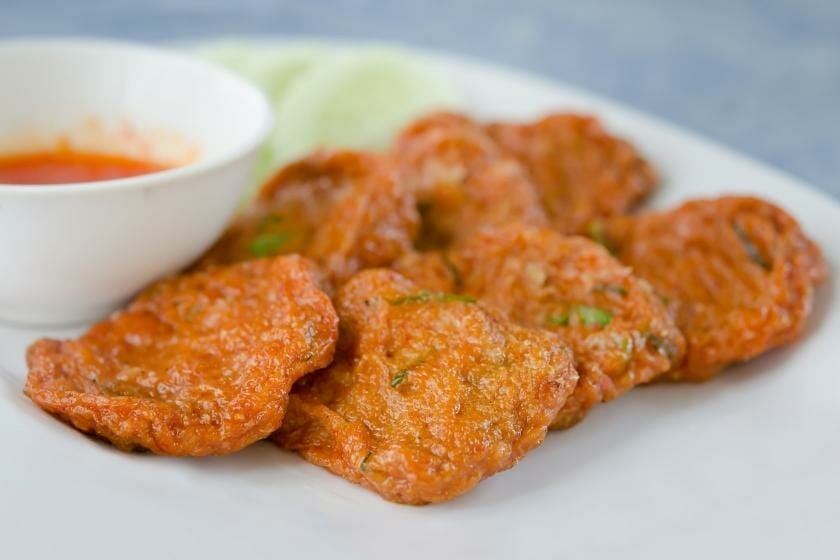 In our guide below, we will discuss why fish cakes can be so high in syns, syn values of varying fish cakes and two recipes for making your own slimming world friendly fish cakes at home.
Why Are Fish Cakes So High In Syns?
At 9-13 syns a cake, fish cakes are very high in syns, consuming half to nearly all of your daily syn allowance depending on the type you buy.
Fish cakes get the majority of their syns from the buttery mashed potato coating and breadcrumbs, this increases the fat and carb content of the food, with some cakes having up to 8g of fat for just one.
You'll often find that fishcakes also have different ingredients such as white wine centres, sausage centres or even mozzarella centres which all add to the extra syns in the fish.
General Fish Cake Syn Values
As we mentioned, fish cakes syns vary according to the type you buy and the brands, we've listed some varying syn values to help you compare below.
Morrisons The Best 2 Salmon, Smoked Cod & Haddock Fishcakes 290g - 2.5 syns.
Tesco Finest 2 Cod & Parsley Fishcakes 290G - 11 syns.
Young's 12 Omega 3 Fish Cakes 600g - 9 syns for two fish cakes.
Aldi Specially Selected Melt In The Middle Cod Fishcakes 290g - 13 syns for one.
Tesco Finest 2 Salmon, Spinach and Lemon Fishcakes 290g - 15 syns.
Tesco Finest 2 Cod & Chorizo Fishcakes 290G - 13 syns.
Tesco Finest 2 Smoked Haddock Fishcakes 290G - 12 syns.
Birds Eye 4 Breaded Cod Cakes 198G - 9 syns for two.
Hearty Food Co 10 Cod Fishcakes 500G - 9 syns for two.
Youngs Gastro 2 Smoked Haddock Chunky Fish Cakes 270G - 12.5 syns.
Tesco 2 Cod Fishcakes With Lemon & Herb 270G - 10 syns.
Tesco 4 Breaded Cod Fishcakes 340G - 8.5 syns.
Sainsbury's Taste the Difference 4 Melting Middle Smoked Haddock Fishcakes 580g - 14 syns.
Sainsbury's Deliciously Free From Haddock Fishcakes 270g - 11.5 syns.
Sainsbury's MSC Cod & Serrano Ham Fishcakes with Roasted Red Peppers, Taste the Difference 290g - 13 syns.
Tesco Finest 2 Cod Sweet Potato & Chilli Fishcakes 290G - 10 syns.
M&S 2 Cod Fillet Fishcakes 170g - 7 syns per one.
Sainsbury's Cod Fishcakes x2 270g - 11 syns.
Aldi Specially Selected 2 Thai Style Prawn, Chilli & Lemongrass Fish Cakes 290g - 13 syns for one.
Aldi Specially Selected 2 Melt In The Middle Smoked Haddock Fishcakes 300g - 13 syns.
Iceland 10 Breaded Cod Fishcakes 420g - 9 syns for two.
Asda 8 Breaded Minced Cod Fishcakes 400g - 9 syns for two.
M&S 2 Haddock Fillet Fishcakes 170g - 7 syns.
Sainsbury's Fishcakes Melting Middle Smoked Haddock with Cheddar & Leek Taste the Difference x2 290g - 14 syns for one.
Our Best SW Friendly Fish Cake Recipes
One way to enjoy your fish cakes without the syns is by making your own at home, we've listed two easy recipes below for fish cakes to give you some cooking inspiration.
SW Cod Fishcakes
These slimming world cod fishcakes are SYN FREE and still have that creamy potato mash!
Ingredients
Two large potatoes.
150g cod fillet.
Tablespoon of mint.
Three garlic cloves.
One onion cut into wedges.
150g of haddock smoked.
100g of peas frozen or cooked.
One and a half tablespoons of Greek yoghurt.
Lemon juice.
Tablespoon of parsley.
Method
Start by steaming your garlic, onion and potatoes for ten minutes then set aside the veggies and mash the potatoes. Steam the fish for around ten minutes until flaky and cooked.
Cook your peas and add in the lemon juice, mint and some salt then mash, heat your oven to gas mark 5.
Add your yoghurt, parsley seasoning and flaked fish into your potato, chop the garlic and onion then mix this in too. Divide the mix into 4 fishcake balls sealing in two tablespoons of peas inside of each one.
Bake for 20 minutes and serve with some lemon.
SW Tuna & Sweetcorn Fishcakes
For a quick and easy meal, these syn friendly tuna and sweetcorn fishcakes are a great choice.
Ingredients
One tin of tuna in brine.
Low cal cooking spray.
Seasoning.
One egg already beaten.
35g of panko breadcrumbs.
Pinch of mixed herbs.
One large potato peeled.
Tin of tuna.
Method
Begin by preheating your oven to 160 degrees then boil your potato and mash, mix in the tuna, herbs, sweetcorn and your seasoning.
Make 4 fish cakes from the mixture dip them into your egg, then the breadcrumbs and put on a prepared baking tray with some low cal cooking spray, bake for 30 minutes then serve.
Last Words
Overall, fish cakes are typically very high in syns due to their breadcrumb and mashed potato coatings plus extra ingredients, with the average fish cake having between 9-13 syns depending on the type you choose.
To save syns we would suggest choosing small-sized fish cakes with more basic ingredients or simply make your syn free ones at home with our recipes above!