Can You Get Away with Eating Nutella on a Slimming World Diet?
Nutella. One of the most widely known and widely loved spreads in the world, enjoyed by children and adults alike. It's great on toast or in a sandwich, spread on pancakes, or dolloped into cake mix to give a molten hazelnutty centre.
If you love Nutella as much as most people do, but you're also following a Slimming World programme and don't want to derail your progress, it's vital to know how many syns Nutella has so you can factor it into your diet appropriately.
You might be dreading the answer, afraid you'll have to give up Nutella's chocolatey goodness, but fret not! We'll take a closer look at this right below:
How Many Syns are in Nutella?
For an easily digestible answer, 15ml of Nutella (equivalent to 1 level tablespoon) equals 4 syns. Looking at it a bit differently, it's approximately 1.5 syns per teaspoon of Nutella (rounded up to the nearest .5) or around 1 syn per 20 calories.
When you put it into perspective, treating yourself to a spoon of Nutella really isn't going to be make or break and you should still have plenty of syns free for the rest of your week. Moderation is one of the most important factors when it comes to weight loss.
Similar Alternatives to Nutella
If Nutella isn't your thing but there's another brand of chocolate spread that you prefer, here's a list of a few common ones and how many syns each has:
Asda Hazelnut Chocolate Spread – 4 syns per level tablespoon
Cadbury Crunchie Chocolate Spread with Crunchie Bits – 4 syns per level tablespoon
Co-Op Irresistible Hazelnut & Chocolate Spread – 4.5 syns per level tablespoon
Lindt Hazelnut Chocolate Spread – 4 syns per level tablespoon
Lotus Biscoff Spread – 4.5 syns per level tablespoon
Peanut Butter – 5 syns per level tablespoon
This is not an exhaustive list, but you can see that many chocolate spreads and other sweet spreads are fairly close in terms of syns. Use your best judgment and make room for your favourite chocolate treat within your syn allowance.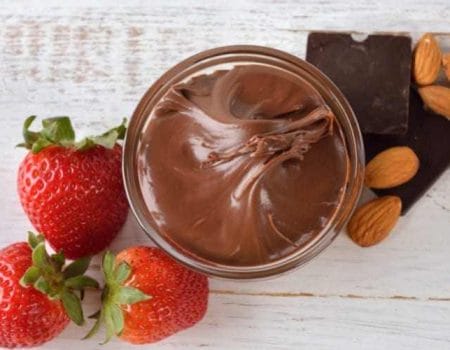 Syn-Friendly Nutella Recipes
Nutella Brownies
This is one of the easiest recipes you'll ever find and the brownies themselves are delicious. Better yet, they're only 1.5 syns a piece so you don't even have to feel guilty for indulging!
You'll Need:
2 eggs
5 level tablespoons of plain flour
125g of Nutella
A dash of vanilla extract if you've got it (this is optional – keep it simple!)
The best part about this recipe is that because it only has 3 ingredients (omitting the vanilla extract), you can chuck them all in a bowl and whisk them together without having to worry about doing wet and dry ingredients separately.
Once mixed, spoon your mixture into muffin cups and bake in an oven preheated to 180 degrees for 10-12 minutes. Prick with a toothpick to check they're cooked throughout or cook them for slightly less time if you prefer a gooier brownie.
Nutella Baked Oats
For a breakfast that's both hearty and delicious, try out these baked oats! At only 3.5 syns per serving, this is a gooey recipe you'll keep coming back to.
You'll Need:
40g oats
1 egg
2 teaspoons of granulated sweetener
Dash of vanilla essence or extract
2 teaspoons of Nutella
Half a pot of Muller Light Yoghurt (flavour of your choosing)
Mix all your ingredients apart from the Nutella in a bowl and then pour half into an oven-safe dish. Dollop or spread your Nutella on top of this layer before pouring over the other half of the mixture.
Bake at 180 degrees for 25-30 minutes and serve hot for the best results.
On a Balance
Being on a Slimming World programme doesn't mean you have to give up chocolate and treats. Where Nutella is concerned, a few syns here or there is not going to plunge you into failure, it's just about budgeting your allotted syns effectively and planning your meals accordingly.
There are loads of low-syn desserts and Nutella recipe ideas out there and most of the time, you won't even need any special ingredients! As long as you aren't eating a whole tub of Nutella, you should be just fine!