Are Mccain Jacket Potatoes Slimming World Friendly? - Our Syn Guide!
For an easy lunch, you might be tempted to have a Mccain jacket potato with a syn-free topping, but since these potatoes are already pre-prepared you will need to make sure you are synning them on the plan.
Mccain jacket potatoes have 1 syn per potato making them very low in syns and great for a quick lunch, the syn value in these jacket potatoes comes from the oil content.
Down below in our syn guide we will take you through why jacket potatoes are so low in syns, some syn values of other jacket potatoes and our best syn-free SW jacket potato recipe.
Why Are Mccain Jacket Potatoes So Low In Syns?
At 1 syn per jacket potato, Mccain jacket potatoes are very low in syns, meaning you could have up to one or even three jacket potatoes before using all your daily syn allowance.
These potatoes are low in syns because potatoes themselves are syn free on the slimming world plan, the only reason these jacket potatoes have syns are that they can sometimes contain oil for the baking process.
Syn Values Of Jacket Potatoes
Jacket potatoes have varying syn values according to the brand, we've listed some syn values of store-bought options below to help you compare.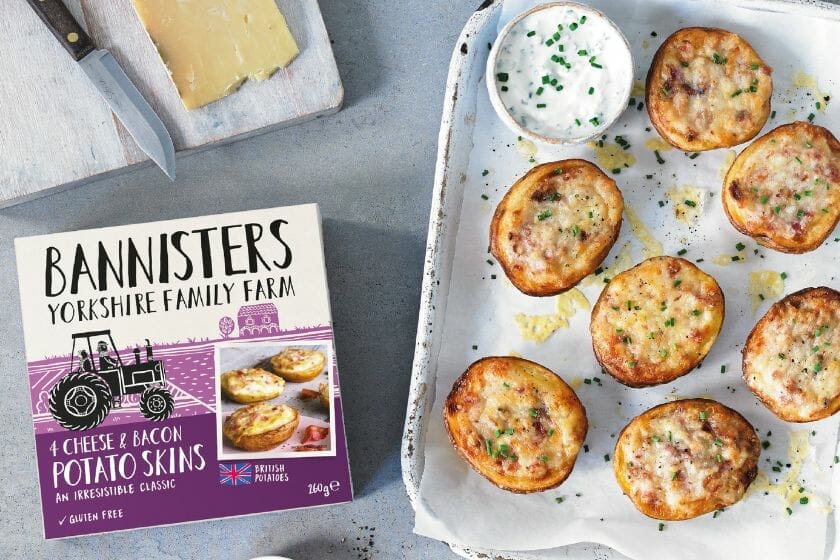 Bannisters Yorkshire Family Farm 4 Cheese & Bacon Potato Skins 260g - 5 syns.
McCain 4 Ready Baked Jackets Frozen 800g - 1 syns.
Tesco 2 Baked Potatoes With Cheese & Bacon 450G - 11.5 syns.
M&S 2 Baked Potatoes with Mature Cheddar Cheese 2 per pack - 5 syns for 100g.
M&S 4 Baked Jacket Potatoes Frozen 800g - 1 syn.
Tesco 2 X Baked Potatoes With Cheese 450G - 11.5 syns.
Bannisters Farm 4 Cheese & Onion Baked Potato Skins - 5 syns.
Bannisters Farm 6 Little Jacket Potatoes - 2 syns.
Low Syn Filling Ideas For Jacket Potatoes
For a quick and easy lunch, jacket potatoes are a perfect syn-free choice and can be filled with low syn and syn-free fillings to keep things healthy.
We've listed some filling ideas down below.
Syn free bolognese.
Syn free curry.
Baked beans.
Roasted tomatoes and garlic.
Tinned tuna or salmon.
Spaghetti hoops.
Veggie stir fry.
Chicken.
Scrambled eggs.
Chickpea curry.
Our Syn Free Jacket Potato Recipes
If you're struggling to think of a quick meal to have with your jacket potatoes we've got two great syn free and low syn meal ideas for you to check out down below.
Pasta Sauce Jacket Potato
Ingredients
500g of lean beef mince.
One pack of cherry tomatoes.
120g of cheddar.
Four jacket potatoes.
Spoon of tomato paste.
Seasoning.
Beef stock.
One onion.
Method
Start by heating your oven to 200 degrees then bake the potatoes in some foil until soft then fry off your onion till it starts to soften in a pan then add in your beef mince and the tomatoes.
Next, add your tomato paste and stock, take the insides of the potatoes out with a spoon and put them aside in a bowl, mix the cheese into these mashed potatoes.
Fill the skins with your sauce and add in the potato then enjoy!
Tuna Sweetcorn Jacket Potato
Ingredients
Three spoons of fat-free natural yoghurt.
Two cans of tuna in brine.
Two cans of sweetcorn.
Four jacket potatoes.
Four spoons of light mayonnaise.
Method
Begin by heating your oven to gas mark 7 then bake the potatoes for two hours and mix all your ingredients to make the tuna sweetcorn.
Fill the potatoes and serve.
Last Words
Overall, Mccain jacket potatoes have one syn per potato, making them low in syns and a great quick and easy meal to have for when you're stuck for dinner/lunch ideas. To keep your jacket potatoes low in syns, we recommend filling them with low syn filling such as tuna or stir-fry veggies or using your potatoes rather than store-bought to keep it syn free.