Do Twiglets Have a lot of Syns?
Twiglets are a wheat-based snack popular in the United Kingdom, with a knobbly form (similar to Nik Naks crisps) resembling twigs and a mottled brown over pale colour look. Twiglets' flavour, which has already been likened to Marmite, comes mostly from yeast extract used for the covering. The same yeast extract which Marmite is made from.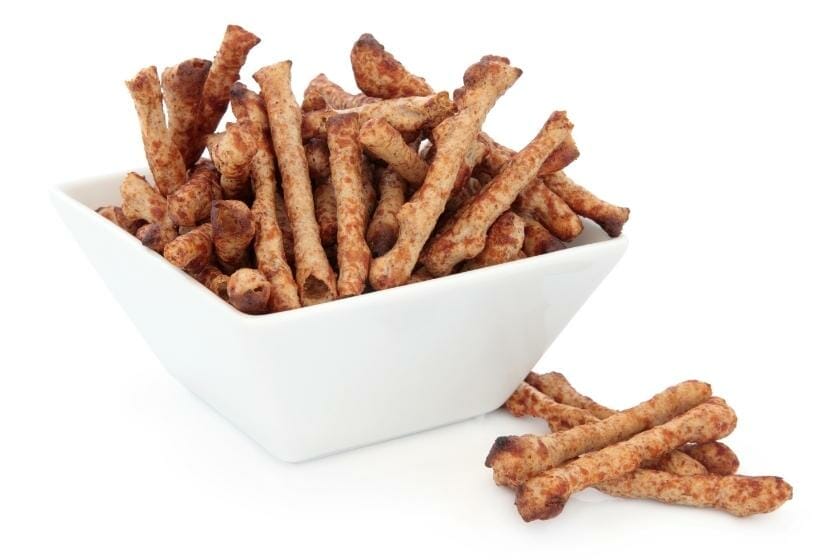 With a syn allowance of up to 15 syns a day, you may be curious to know just how big of a dent twiglets can end up making. Like crisps, twiglets are perfect for a single packet worth of snacking, and come out to 4.5 syns per 25g bag. You may already know that twiglets are sold in larget packs as well, including 45g bags, 105g bags, 150g bags, as well as in 200g cylinder tubes.
So as long as you're enjoying the odd packet for a snack, you need not be too worried about your syn allowance being blown away by some twiglets. However, if you have a real hankering this gluten filled treat then you may end up facing more syns than you bargained for. Just three small bags of twiglets, and most of your daily allowance is gone. This is even worse if you're on a more intensive Slimming World course of 10 or even 5 syns a day! Luckily your syns roll over, so twiglets can be an ideal late week snack if you have syns in excess.
Where do the Syns Come From?
Slimming World does not tell customers what their algorithm is or how their syn values are calculated. As a result, determining precisely how horrible anything you could treat yourself with could be tough. Twiglets, in particular, are widely regarded to be unhealthy, and can therefore be a struggle to determine just how bad they are.
Marmite, Vegemite, and Bovril are all syn free, so most of the syns in a twiglet come from that gluten content we hinted at rather than the yeast extract coating. While grains and oats are generally syn free, when baked into other goods they can really be bad on the calorie count. Bread is just another example of how syn free ingredients become a third of your potential allowance.
There's nothing quite like a twiglet, so you'll struggle to find an exact alternative. Twiglets in the UK are sold and marketed by Jacobs, with no real own store brands or competition in this particular product. Of course you can always make your own if you're desperate, and gluten free recipes can cut down the calorie count.
However, you may be stuck with twiglets as they are bought and sold. While you can find gluten free alternatives, the snack itself is still containing milk and butter. Heavy dairy products that can quickly chew through your calorie allowance, and leave you with an empty stomach.
Low Syn Alternatives to Twiglets
While baked wheat snacks can be problematic thanks to dairy, you can find baked potato crisps which are a healthy alternative. Crisps don't typically involve much dairy, sugar, or other calorie additives. Instead, the reason most crisps are high in syns is because of the fact they are fried.
Fried crisps in fatty oils make syn counts rise. So, baked alternative crisps can help you keep your allowance strong throughout the week. We're not talking faux crisp snakcs like Mini Cheddars here, but proper potato crisps. Here are some ideas for baked, low syn crisps for snacking:
Walkers Crisps Walkers Lights - 6 syns per 24g bag
Walkers Crisps Pops - 4 syns per 19g bag
Walkers Crisps Sunbites Wholegrain Popcorn, Sweet & Salty - 2.5 syns per 14g bag
Walkers Wotsits Really Cheesy - 4.5 syns per 17g bag
Aldi Snackrite Cheese Curls - 3 syns per 12g bag
Popchips Sea Salt Potato Chips – 3.5 syns per 17g bag
KP Snacks Hula Hoops Puft Sweet Chilli - 3.5 syns per 15g bag
KP Snacks Space Raiders Beef - 3 syns per 13g bag
Tayto Curry Chips Snacks - 4 syns per 15g bag
Tayto Treble Crunch Farmhouse Cheddar & Spring Onion Crisps - 5 syns per 20g bag
Snack a Jacks Jumbo Salt & Vinegar – 2 syns per rice cake
Lidl Snaktastic Popcorn, Salted – 3.5 syns per 15g bag
Lidl Snaktastic Monster Claws – 4.5 syns per 18g bag
Lidl Snaktastic Crunchy Fries, Ready Salted – 3.5 syns per 15g bag
As you can see, there is a wide variety of baked crisps and popcorn snack alternatives to twiglets, all commercially available in most supermarkets. Many are comparable to twiglets, so if you properly count your syns then there is nothing stopping you from enjoying a small wheat snack every now and then. So, be sure to enjoy, and keep track of your syns to reach your desired weight.