Is Rocky Road High In Syns On Slimming World? - Our Guide
We all need a sweet treat now and then, even when we're dieting, and on the slimming world plan, you can happily indulge in some rocky road as long as it fits into your daily syn allowance.
Rocky road syns differ according to the brand and the ingredients inside, but on average, you can expect rocky road slices to have between 17.5 and 22.5 syns making them very high in syns, they should only be eaten in moderation to avoid going over your syn allowance.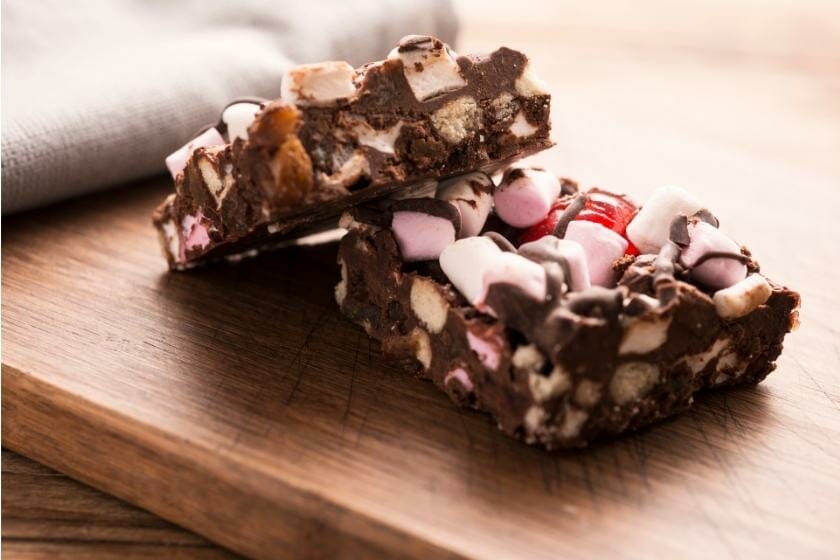 To find out more about why rocky roads are high in syns, syn values of rocky roads, low syn alternatives and how to make your own SW friendly rocky road, we've put together a guide with everything you need to know below.
Why Is Rocky Road So High In Syns?
On average, most people on the slimming world plan have a 15 syn daily allowance, rocky road slices have between 17.5-22.5 syns which is well over your allowance.
These sweet treats get their syns from indulgent ingredients such as; marshmallows, chocolate, biscuit and crisped rice, to save syns we would recommend choosing rocky road bites rather than slices which are in smaller portion sizes.
Rocky road bites from M&S, for example, have only 2.5 syns a bite, but should still be eaten in moderation however since they have 7g of sugar per small bite.
Rocky Road Syn Values
Rocky road has a huge range of syn values depending on the mixed ingredients and whether we are talking slices or bites. We've listed some popular rocky road below from different brands to give you an idea of what to expect syn wise.
Skinny Dream Rocky Road Bars 5 x 20g - 3.5 syns.
SlimFast Rocky Road Meal Bar 60g - 11 syns.
M&S Rocky Road Mini Bites 210g - 2.5 syns.
Costa Coffee Vegan Rocky Road Slice - 21 syns.
Starbucks Rocky Road Bar - 16.5 syns.
Myprotein Rocky Road Protein Bar 50g - 10.5 syns.
Sainsbury's 18 Rocky Road Bites 144g - 2.5 syns.
M&S Rocky Road Bar 68g - 16 syns.
Costa Coffee Rocky Road Bar with Aero Peppermint Bubbles 69g - 8.5 syns.
Aldi Specially Selected Rocky Road Mini Bites 220g - 5 syns.
Morrisons Rocky Road 65g - 16.5 syns.
Tesco Rocky Road Bites 195g - 3 syns per bite.
Tesco Free From 12 Rocky Road Mini Bites - 4 syns.
Lidl Deluxe Rocky Road Mini Bites 200g - 3 syns.
Waitrose Mini Rocky Road Bites 230g - 3.5 syns.
TGI Fridays Chocolate Rocky Road - 13.5 syns for 1/8.
Co-op Free From Rocky Road Stackers 150g - 7.5 syns.
Asda Free From 5 Chocolate Rocky Roads 150g - 7.5 syns.
The Foods of Athenry Belgian Chocolate Biscuit Bar Caramel Rocky Road 55g - 9.5 syns.
Low Syn Alternatives To Rocky Road
If you find a rocky road to be too high in syns and you're looking for some low syn alternative bites and cake slices for a sweet treat we've got some low syn alternatives for you to check out below.
Tesco 15 Cornflake Bites - 2.5 syns.
Sainsbury's Brownie Slices x4 - 10.5 syns a serving.
Sainsbury's Caramel Shortcake Slices x4 - 8 syns.
Thorntons Chocolate Fudge Brownie Bites 10 Pack - 2.5 syns.
Tesco Brookie Bites 20 Pack - 2 syns.
Tesco Crispy Caramel Bites 20 Pack - 2.5 syns.
Tesco Free From 14 Brownie Mini Bites - 2.5 syns.
Tesco Millionaire Bites 22Pk - 3 syns.
Tesco Mini Flapjack Bites 20 Pack - 3 syns.
Cadbury Dairy 15 Milk Cornflake Cluster Bites - 3 syns.
Tesco Double Chocolate Mini Muffins 16 Pack - 5.5 syns.
M&S All Butter Flapjack Mini Bites 320g - 3 syns.
Sainsbury's Chocolate Cornflake Clusters x15 - 2.5 syns.
Our Best SW Rocky Road Recipe
If you are a lover of rocky road but you're not a lover of the syns, one way to enjoy your rocky road is by making your own SW healthy version at home.
We've listed a great recipe to try below which only has 4 syns a serving.
Ingredients
40g of chocolate.
45g of butter.
One tablespoon of golden syrup.
20g of mini marshmallows.
8 rich tea finger biscuits.
Method
Put your biscuits into a bowl and crush then add your syrup, butter and chocolate into the other bowl.
Melt the mix with a double boiler method then add in the biscuits, pour into a flat tray and top with the marshmallows.
Put it in the fridge and allow it to sit for 2 hours.
Final Words
To conclude, rocky road is very high in syns since they're made of high-calorie ingredients such as chocolate and marshmallows, coming around 18-23 syns for a slice. To keep syns low in your rocky road we recommend choosing the mini bites which have fewer syns or making your own SW version at home for just 4 syns a piece!