Does Apple Crumble & Custard Have a Lot Of Syns?
If you fancy a dessert after dinner you have to make sure your track its syns for your sweet treat not to affect your weight loss.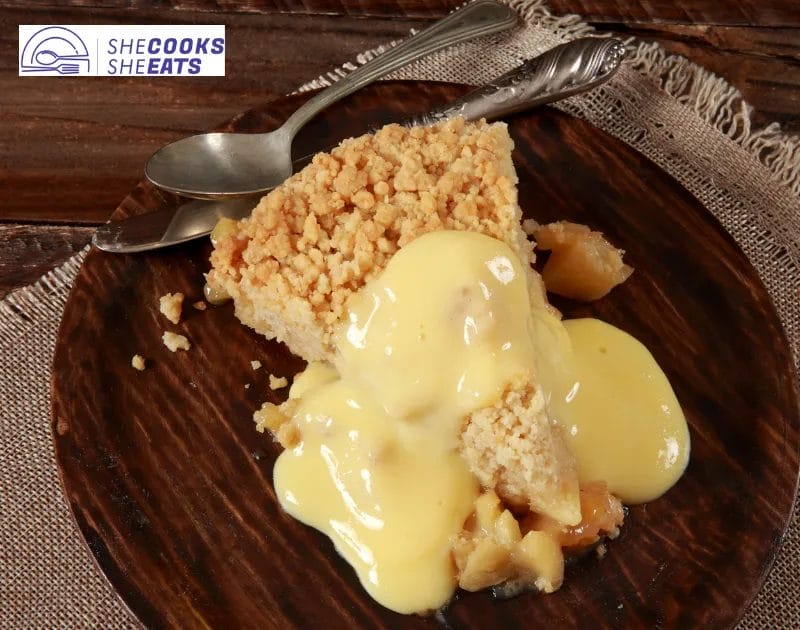 One slice of apple and crumble could cost you between 11 syns and 13 syns which is very high in syns and custard has around 6 syns a serving so could use around nearly your whole daily allowance.
In our guide below we will discuss whether or not you can eat apple crumble on the slimming world diet, how many syns some popular branded apple crumbles have as well as a slimming world crumble and custard recipe if you feel like getting creative in the kitchen!
Can I Eat Apple Crumble & Custard On The Slimming World Plan?
Although apple crumbles are high in syns you can still eat it on the slimming world diet as long as you have enough allowance for it, although it will consume most of your allowance once paired with custard.
We would suggest having a smaller portion of crumble if you want to save syns and ensure you measure out your custard to keep within your syn allowance.
Syn Values Of Apple Crumbles
Apple crumbles syns vary according to different brands, we've listed a few popular ones for you to check out below.
Deliciously Ella blackberry and apple crumble - 13 syns per portion.
Sainsbury's Be Good To Yourself apple and blackberry crumbles - 10 syns per crumble.
Mr Kipling custard, apple and pear crumble tarts - 10.5 syns a tart.
Tesco free from caramel apple crumble tarts - 8 syns a tart.
ASDA traybake apple crumbles - 14 syns a slice.
Sainsbury's Bramley apple crumble - 15.5 syns per crumble.
Sainsbury's Free From apple crumble slices - 7 syns a slice.
ASDA Free From apple crumble pies - 8 syns a pie.
Aunt Bessie's apple pie - 18 syns a portion.
Morrison's apple crumbles (family version) - 17.5 syns a slice.
ASDA basic apple crumble - 14 syns a slice.
Morrison's small apple crumbles - 17 syns per crumble.
Morrison's basic apple crumble - 14.5 syns a slice.
Syn Values Of Custard
Custard typically has a syn value between 4-6 syns but can vary according to the brand, to help you out, we've bullet-pointed a few of the popular ones down below to help you stay on track.
Ambrosia Devon Custard 1Kg - 6 syns a serving.
Ambrosia Light Devon Custard - 5 syns a serving.
Tesco Finest Custard 500G - 11.5 syns for 1/4 a pot.
Tesco Light Custard Ready To Serve 1Kg - 5 syns a serving.
Tesco Fresh Custard 500G - 6 syns per serving.
Birds Traditional Custard Powder 350G - 7 syns a serving.
Ambrosia Deluxe Custard 400G - 8 syns a serving.
Alpro Vanilla Soya Custard 525G - 3.5 syns a serving.
Oatly Vanilla Custard 250Ml - 8.5 syns for 100ml.
Slimming World Friendly Apple Crumble & Custard Recipes
If you want to save even more syns, why not try making your slimming world apple crumble or custard at home?
We've listed two SW recipes down below to help you out.
SW Apple Crumble Recipe
Ingredients
55g of dessert apples.
1 tsp of cinnamon spice.
180 of fat free fromage frais.
Grated zest and juice of one orange.
4 spoon of sweetener.
115g of self-raising flour.
Vanilla drops.
45g of low fat spread melted.
Method
Heat your oven to gas mark 6 and place your apples into an ovenproof dish with the zest, juice, cinnamon and half of your sweetener.
Assemble the crumble by combining the flour and sweetener then pouring over your melted low fat spread. Mix until crumbly.
Bake for 30 minutes.
SW Custard Recipe
Ingredients
500 ml skimmed milk.
3 egg yolks.
5 tbsp granulated sweetener.
1 tsp vanilla extract.
1 tbsp cornflour.
Method
Instructions
Mix your ingredients into a jug and start to heat the milk on the stove until it steams.
Combine the hot milk quickly with the eggs and other ingredients then put it back into the pan.
On a low heat heat the custard for around 15 minutes taking care not to split it.
Final Words
Overall, apple crumbles and custard is very high in syns so should only be had occasionally as a treat now and then, to save even more syns you should also consider making your apple crumble and custard with our slimming world recipes above.