The Best Slimming World Minced Beef Recipes
Figuring out what to cook in the evening can be hard, you might have a fridge full of ingredients but not know what to do with them or how to make them a slimming world friendly recipe out of the packet of minced beef you have.
Luckily, there's a huge range of slimming world minced beef recipes out there to choose from for some serious cooking inspo, and we have listed the most delicious ones below to get you started.
Let's get the aprons on!
Is Beef Syn Free On Slimming World?
Before we get into our favourite SW minced beef recipes online, let's discuss beef and what it counts for on the SW diet. Lean minced beef under 5% fat is classed as syn free on the slimming world plan, which is why you will find many of the recipes below are indeed syn free.
However mince that has over 5% of fat is not classed as syn free and would be counted at 2.5 syns per 100g, even if you drain all the fat off.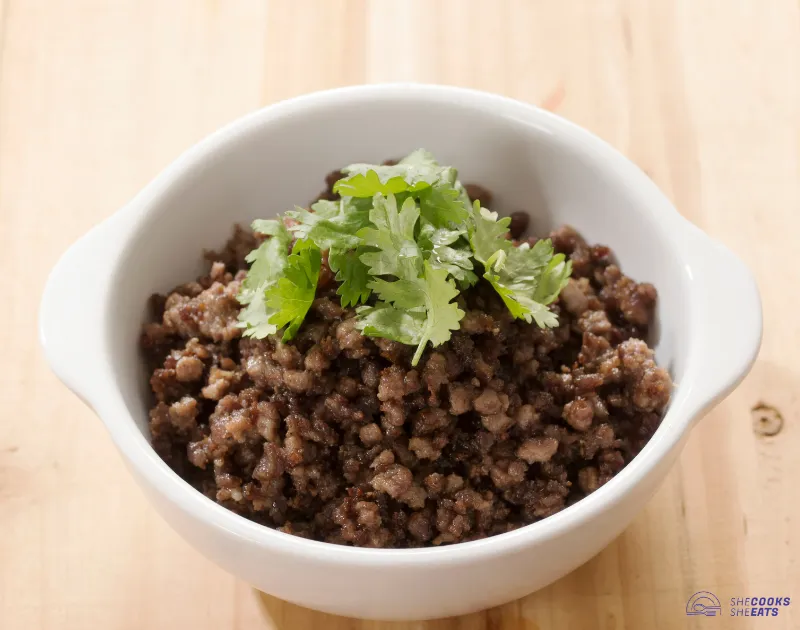 Our Top Pick SW Friendly Minced Beef Recipes
Slimming World Cottage Pie
From the Slimming World itself, this cottage pie serves four and is a healthy dish to serve up to family while keeping you on track with your SW diet.
Featuring swede rather than full mashed potato, this is what keeps the dish healthy and lighter, along with its assorted veggies of peas, asparagus and carrots, but you can add in whatever you have in the fridge. 
The whole dish will roughly take around an hour to make and is SYN FREE!
Get the recipe details here.
Minced Beef Hash
This simple tasty meal is a great way to use up any leftover veggies you have lying around in the fridge while making a high-protein filling SW friendly recipe.
Simply make sure you have a tin of Heinz BBQ beans on hand, some sweet potato, minced beef, chopped tomatoes and your veggies then you are good to go.
The recipe serves around 4 people and only takes 30 minutes to make, you can learn how to do so here.
Slimming World Beef Tagliatelle
Another healthy recipe from Slimming World itself, this beef tagliatelle is like your average spagh bowl but upgraded, just make sure you have all your important veggies like your mushrooms and tomato then leave your sauce to simmer for around 25 minutes to get all the flavours cooking.
Its whole recipe serves 4 people, takes around an hour to cook and is SYN FREE, so no guilt with this weeknight dinner.
Minced Beef Hotpot
If you looking for a home comfort meal to whip up on a cold day but don't want to break your diet, this Minced beef hotpot from Pinch Of Nom will fill you up and is also great for budget eating as it doesn't need any fancy ingredients.
Special ingredients you need for this dish are some 5% minced beef, low-calorie cooking spray and xanthan gum which is a healthy alternative to the cornflour typically used for thickening sauces, it serves around 4 people and takes an hour and 20 minutes to cook up.
You can get the whole method on their website.
Slimming World Meatballs & Pasta
You can't go wrong with meatballs and pasta, kids love it as well as adults, and it's even better when it's Slimming World friendly. This SW recipe uses lean beef mince as well as lean pork mince to make their meatballs (but you could just use beef if you want).
In the recipe, you will also need onion, garlic, chopped tomatoes, spinach and some chilli for an extra kick in the sauce (can be omitted if your kids don't like chilli).
It is SYN FREE since it's from Slimming World itself and serves 4 people with a cooking time of around an hour.
Beef Kofta Kebabs
Making homemade kebabs are much healthier than your average takeaway version, these beef koftas are served with spiced potatoes and are SW friendly too.
All you need are some green beans on hand but you can always serve the kebabs with some other SW speed veggies too, we have linked the details to cook the kebabs here.
Slimming World Yummy Beef Lasagne
Many of us assume lasagne is pretty much off-limits on a diet with its cheesy layers and filling, but this SW version from Slimming Eats is only 0.5 syns per serving with your Healthy Extra A choice!
You can make this minced beef lasagne recipe with gluten-free pasta if needed, the milk in the cheese sauce for this dish is what counts as your Healthy Extra A.
The recipe serves 4 people so makes a great weeknight dinner and you will need to budget around 1 hour 30 minutes of cooking time total. Find the recipe from Slimming Eats here.
Easy Chilli Con Carne
Serves four, tastes great and is SYN FREE, what more could you want? This popular easy chilli con carne from SW is super easy to make, you could serve it with fat-free fromage frais on rice or jacket potato, or on an extra easy day, you can replace half your carbs with some of SW speed veggie.
Ensure you've got some onions, chilis, garlic and your lean minced beef on hand, you'll also need some canned tomatoes and kidney beans to make this home comfort dish.
Stuffed Slimming World Peppers
This Slimming Eats recipe has one Healthy Extra A per serving and doesn't skimp on taste with its mozzarella and cheddar topping.
For the recipe, you will need your lean ground minced beef, long-grain rice, spices, 5 large mixed bell peppers, chopped tomatoes, mozzarella and cheddar, the whole SW friendly stuffed pepper dish takes around 1 hour and 30 minutes to cook, serving five people.
You can find the method here.
Slimming World Beef Macaroni
We know, beef macaroni, is too good to be true? No, it's not only super easy to make but SYN FREE aswell.
Make sure you've got extra lean beef mince, garlic, onion, cheese (which will count as your Healthy Extra A), passata, dried macaroni and chopped tomatoes on hand. You will need a beef stock cube and some Italian seasoning too.
Cook the pasta separate until tender then fry everything else together in a pan, mix in a dish with your cheese on top and bake in the oven for 30 minutes.
We linked the full recipe to the Tastefully Vikkie website.
Easy Asian Ground Beef Bowl
At just 2.5 syns per serving, this Asian minced beef bowl can be prepared and cooked in under 30 minutes as long as you have some soy sauce and hoisin sauce on hand and tastes delicious!
The flavour of this bowl comes from its Asian sauce which you'll need a combination of; hoisin sauce, ginger, garlic, sambal oelek, sesame oil, tomato paste/puree, dark and light soy sauce, with a little bit of water to make the sauce runnier.
You can add any extra veg to this dish too such as Chinese cabbage, beansprouts or shredded carrots, and to cook it, you simply throw it all in a pan together!
Its recipe serves around 3 people and it can be served with a bowl of rice or pasta depending on what you fancy, you can get the full method from their site.
Beef & Aubergine Bake
Sometimes the simpler a dish, the better it tastes, and this beef and aubergine bake from SW is one of these dishes.
To make the bake, you need aubergine, lean beef mince, some extra-light soft cheese, three eggs and two cans of chopped tomatoes to make the filling.
You'll need to make a sauce with the minced beef beforehand while grilling the aubergine slices with some fry light, you can then alternate layers to make a lasagne and top with your soft cheese and eggs.
Baking time is around 40 minutes and the whole dish serves 4 people. It is 2.5 syns per serving making it SW friendly.
We've linked the recipe details here.
Syn Free Chilli Beef Noodles
For people that are short on time but don't what to cook, noodles are probably your best bet. This syn-free dish (or 0.5 syns when using sugar) uses lean beef ground mince to make a spicy noodle dish.
Ingredients needed for the noodles are rice noodles (or you can spiralised any veggie of your choice), dark soy sauce and light soy sauce, a teaspoon of sugar, chilli, chilli pepper paste, green and red peppers, garlic, ginger and onion.
To cook it your throw the veggies on high heat in a wok then add in your sauce at the last minute. The entire recipe serves two people, so you could save half for the next day and cooks up in less than 30 minutes.
For the full method click here.
Syn Free Meatzza
If you are a lover of pizza, then this Meatzza pizza from Slimming Violet will satisfy your cravings and is SYN FREE if you choose to use the cheese on top as your Healthy Extra A!
For the pizza, you will need 5% less fat lean ground beef mince, chopped tomatoes, light mozzarella, an egg, red pepper and onion, mushrooms and some Italian spices.
The trick to this healthy pizza is that your beef mince is your base, so you would need to bind it with your egg and spices, then press it down in a quiche tin for it to bake in the oven. After baking for 10 mins you then add all your lovely tomatoes, veggies and cheese and bake again.
Then voila, a high protein syn free pizza which serves 3 and takes less than 30 minutes to bake, recipe details here.
Slimming World Spaghetti Bolognese
Yes, we know you've been waiting for it, the best SW friendly spagh bowl recipe which is SYN FREE, well, apart from the sneaky parmesan on top, but you can count this as your Healthy Extra A, if you've already used it up, then the pasta is 1.5 syns per serving which still isn't too bad.
Ingredients-wise, you will need 5% lean beef mince on hand, mushrooms, carrots, onion, passata, tin tomatoes and some bacon rashers. Also, make sure you have your parmesan for the topping (as what is a spagh bowl without cheese?)
Then you simply fry off your meats and veggies, add in your tomatoes and allow it to cook for around half an hour, or you could even throw it in the slow cooker all day!
Its whole recipe serves 4 and takes 40 mins to cook, you can freeze leftovers too.
Beef Mince Biriyani (SYN FREE!)
Who doesn't love a good biriyani? Not to mention when it's a healthy one too. This beef mince biriyani from TwoChubbyCubs is SYN FREE and is pretty easy to make.
Use 5% lean beef mince, an onion, five ripe tomatoes, basmati rice, your biriyani spices, green lentils, peas, ginger, chilli and some beef stock.
It's recommended for the best result to use a heavy pan for cooking and soak your rice in cold water for half an hour beforehand then let it steam with the biriyani for 20 mins with lid on.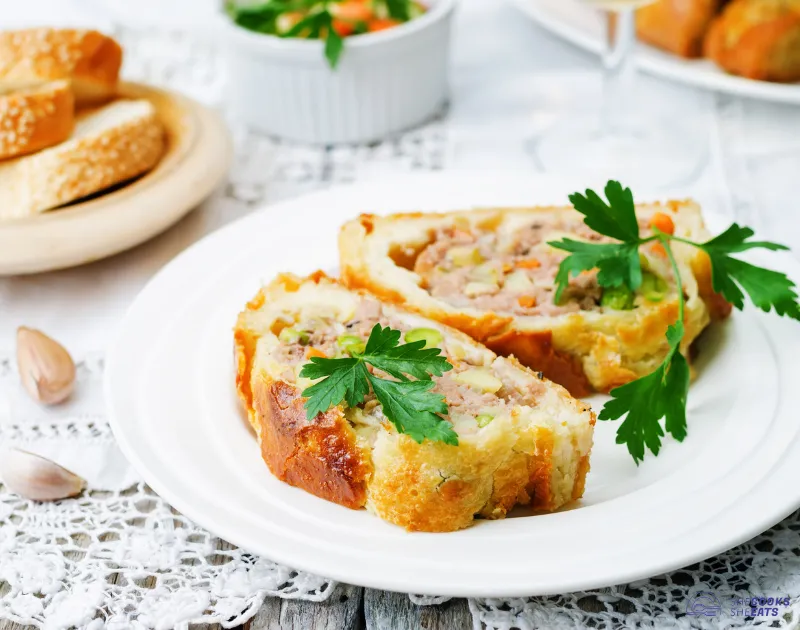 Last Words
Overall, we hope you enjoy making some of these Slimming World friendly beef recipes and have a few weeknight favourite dinners from our selection. Remember that most of these recipes will only be syn free if you use beef with less than 5% fat, and you should always count ingredients such as cheese or milk as your Healthy Extra A when possible to keep it syn free.
Happy cooking!