Is Mango Syn Free? Is Mango Slimming World Friendly?
Trying to find low-syn snacks on the slimming world plan isn't as easy as you think, but what about fruits such as mango? Are they slimming world friendly or do they have syns?
Mango is indeed syn-free in slimming world and makes a great sweet alternative to processed sugar snacks, which are often very high in syns.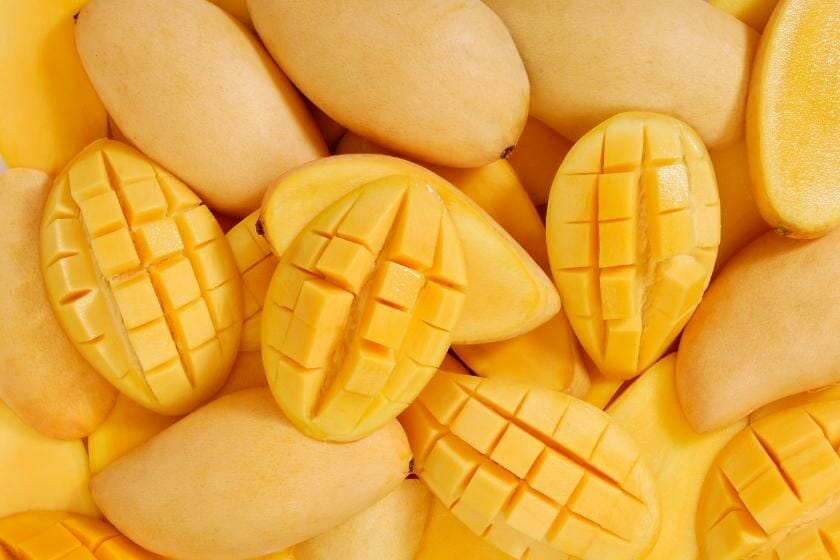 In our guide below, we will discuss if Mango is good for weight loss, syn values of fruit, as well as the difference between speed fruits and syn-free fruits to understand which is better for snacking on.
Is Mango Good For Weight Loss?
Mango is syn free in slimming world, meaning you can eat as much of it as you want without restrictions, you should be careful to eat it in moderation, however, since it is high in sugar and calories.
Although mango is full of natural sugar rather than processed, you should still be consuming the fruit mindfully, for example, one cup of mango has 100 calories and 25g of sugar, making it one of the highest calorie syn free fruits.
It should also be clear that mango is not syn free anymore once blended since it lacks fibre which is what keeps you full.
Syn Values Of Fruit
Most fruits are syn free on the slimming world, with some even being classed as a speed fruit, meaning they are recommended to be eaten for weight loss.
We've listed some syn free fruits to check out below.
Bananas.
Kiwi fruit.
Clementines (speed fruit).
Nectarines (speed fruit).
Blackberries (speed fruit).
Blueberries.
Apples (speed fruit).
Pears.
Strawberries (speed fruit).
Grapes.
Oranges (speed fruit).
Grapefruit (speed fruit).
Melon (speed fruit).
Pineapple.
Plums (speed fruit).
Raspberries (speed fruit).
Satsuma (speed fruit).
Tangerines (speed fruit).
Syn Values Of Popular Mango Products
Since we know mango is syn free, you might be wondering about other foods made with mango, are they syn free also?
We've listed some popular mango products down below along with their syn values to help you out.
Naked Mango Machine Smoothie 300ml - 2 syns for 100ml.
Rubicon Still Mango Juice Drink 1L - 1 syn for 100ml.
Onken Mango, Papaya, Passion Fruit Yogurt 450g - 1.5 syn.
Alpro Greek Style Mango Yoghurt Alternative 150g - 4 syns.
Tesco Orange & Mango Juice 1L - 2.5 syns for 100ml.
Spare Scrapples Apple and Mango Crisps 12g - 2 syns a serving.
What's The Difference Between Speed Fruit & Syn Free Fruit?
You might notice that some fruits are classed as syn free or speed fruits and wonder what the difference is between the two. Well, speed fruit can also be eaten without restriction just like syn free fruit, except the slimming world has a preference for it since they are lower in calories and more nutritionally sound.
Syn free fruits can still be eaten in any portion size but they are often higher in calories, so we would be more mindful when eating these types of fruits.
Is Dried Mango Syn Free?
If mango is syn free, you might be curious if dried mango is too, or does it have syns? Dried mango does indeed have syns due to its higher concentrated sugar content.
Dried mango has around 5 syns for a 30g serving making it quite high in syns for a small portion, you could have up to three portions before using all your daily syn allowance.
Last Words
Overall, Mango is a great syn free snack to have on the slimming world plan, but it should be noted that it is a very high calorie fruit and is high in sugar, so should be consumed mindfully, with speed fruits on the other hand you don't have to worry too much about the portion size.
Avoid consuming mango in a blended smoothie or juice form since it will have syns as the fibre content of the fruit is missing which is what helps keep you fuller for longer.