Do Bananas Have Syns In Slimming World?
Nearly every kind of fruit on the slimming world plan is syn free, allowing you to have frozen fruit as a snack or add fruit to any meal type to bulk it out.
Bananas are syn free and can be paired with daily meal ideas such as bananas on Weetabix or bananas on toast, however, when you mash or puree bananas they will count a 4 syns, the reasoning behind this that mashed bananas are easy to overeat and might spike your blood sugar quicker.
We will get into more detail about how many syns a banana might have on the slimming world diet below, along with some healthy recipes to use bananas in your slimming world diet.
Why Does Mashed Bananas Have Syns?
Fruit as a whole on the slimming world plan can be enjoyed syn free, allowing you to use it top porridge or cereal or have it in a separate bowl in addition to your healthy evening meal.
Slimming world syns will need to be counted when you decide to blend or mash this fruit, such as banana in smoothies or recipes, this is because slimming world's plan states that blended, mashed or pureed fruit is much easier to overeat and is not as satisfying as it is whole, therefore counts as slimming world syns.
A banana in particular when mashed can set you back 4 slimming world syns, we have listed the other fruits and they're syns out below when mashed too.
Avacado - Avacado when mashed has 9.5 syns.
Blueberries - 1 syn or can be used as a healthy extra B under 300g.
Melon - 1.5 syn per 100g.
Mixed berries - 1.5 syn per 100g.
Mango - 3 syn per 100g.
Passion fruit - 2 syn per 100g.
Apples - Cooking apples are 1.5 syn per 100g and eating apples are 2.5 syn per 100g, both can be used as healthy extra Bs, however.
Kiwi - 2.5 syns per 100g.
You can still use banana in meal additions, but sliced rather than mashed to make healthier meals we have listed a few ideas of how to use banana in recipe ideas without mashing it below.
Top your Greek yoghurt with sliced bananas.
Have slices on a bowl of porridge.
Peanut butter on toast.
Sliced on crackers.
As an extra ingredient in a fruit salad.
Make a banana popsicle by using the frozen fruit and dipping it in dark chocolate.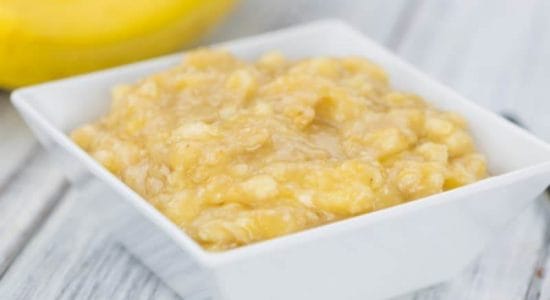 Slimming World Recipe Ideas With Bananas
From banana baked oatmeal to banana bread, although this mashed ingredient might count as syns, it can still make cake recipes or a banana bread recipe much healthier as it adds sweetness to a delicious recipe without using regular sugar, making it perfect for a low-calorie diet.
We have listed out three of our favourite recipes below that are slimming world friendly and low in syns if you have some overripe bananas to use up in your kitchen.
Let's get baking!
Banana Baked Oatmeal (2.5 syns)
If you are looking for a great way to start your morning full of energy, try a low syn banana baked oatmeal, this recipe is low in syn values and won't ruin your weight loss journey, it can also satisfy your sweet tooth naturally.
Ingredients
40g of rolled oats
50g of mashed banana (keep the rest for later)
Half a tsp of vanilla and half tsp of baking powder
100g of fat-free natural yoghurt
One tbsp of sweetener
One egg
One spoon of yoghurt
Low-calorie spray oil
Method
Step One - Heat your oven to gas mark five and prepare a small baking dish for your oatmeal with non-stick low cal spray.
Step Two - Add your oats, baking powder, banana, yoghurt, vanilla, sweetener and egg to a bowl then mix it all.
Step Three - Pour into the baking dish, sprinkle with your sweetener then bake for forty minutes.
Step Four - Add your banana and spoon of yoghurt at the end when baked and enjoy!
Banana Pancakes (2.5 syns)
There's nothing better than pancakes on a Sunday morning, especially pancakes which are slimming world and weight watchers friendly!
Ingredients
One banana
Two eggs
Low cal cooking spray
Two tbsp of self-raising flour
150g of mixed berries
100g of yoghurt or fromage fraise
Cinnamon
Method
Step One - Mash banana in a bowl with a fork then stir in eggs and flour.
Step Two - Spray a non-stick frypan over low heat then pour in a measured amount of the pancake mixture, flip over after one minute or when ready.
Step Three - Make 11 more pancakes (3 per person with four people serving), top with cinnamon, berries and fromage frais!
Banana Bread (2.5 syns a slice)
If your craving cake or normal sugar, banana bread can be a satisfying alternative that you can even have for breakfast.
Ingredients
130g of self-raising flour
1 tsp of baking soda
Two bananas
Three eggs
One tsp of cinnamon
One tablespoon of sweetener
One tsp of vanilla essence
30g of dried raisins.
Methods
Step One - Heat oven to gas mark four then combine dry ingredients in a bowl (flour, baking soda, sweetener, cinnamon).
Step Two - In another bowl mix your wet ingredients making sure you have mashed your bananas beforehand, add in the vanilla essence and eggs too then combine.
Step Three - Whisk the dry and wet mixture together until smooth then stir in raisins.
Step Four - Add all in the loaf tin then bake for 25 minutes.
Final Words
To conclude, bananas on the slimming world plan are syn free but will cost you a total of 4 syns once mashed, this is due to the fact slimming world classes mashed banana as easier to overeat once mashed or added to smoothies, however, you can still enjoy bananas sliced on top of your breakfast or in healthy low syn recipes such as the above.