Is A KFC Boneless Banquet High In Syns? - Our Guide
If you are planning to have a KFC takeaway for dinner or maybe you've already indulged, you might be curious as to how high in syns a KFC boneless banquet is?
A KFC boneless banquet has 46 syns per serving, making it very high in syns, to save syns we suggest having a half portion or a different item from the menu which is more syn friendly.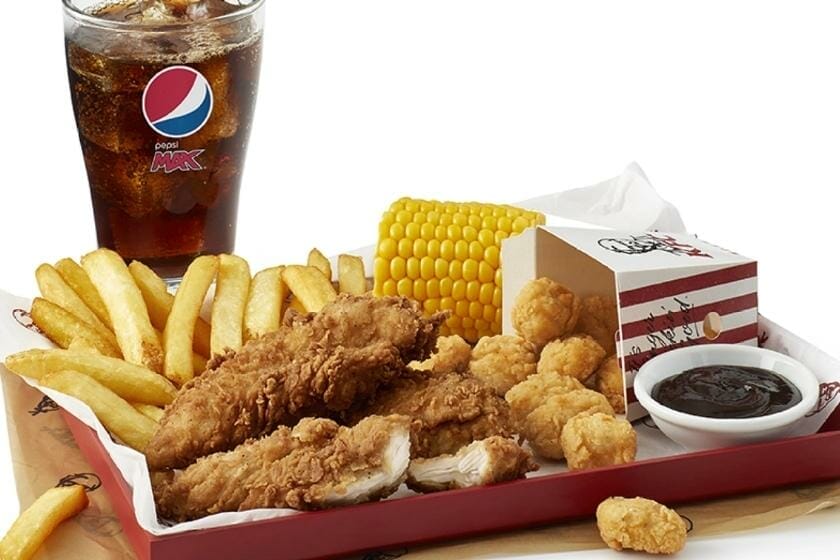 We've discussed in more detail below why KFC boneless banquet is high in syns, syn values of the whole KFC menu, tips for ordering a healthier KFC and how to make your own SW friendly KFC chicken at home.
Why Is KFC Boneless Banquet So High In Syns?
At 46 syns for a one-person KFC boneless banquet meal, these chicken options are very high syns, since your daily syn allowance is marked at 15 a day.
These boneless banquet meals are high in syns due to the deep frying of the chicken in oil which adds fat, the breadcrumbs plus excess sodium, which is what makes this takeaway meal so addictive.
The chicken used in this meal is often thighs too, which are a fattier cut of chicken than breasts. One other thing which raises the syns of this meal is the portion size too, KFC is often giving fairly oversized portions which you could often split with another.
Syn Values Of KFC
To help you compare the syn values in KFC, we've listed all of the meals down below to see which is most syn friendly.
KFC Fries - 12.5 syns a serving.
KFC Mini Fillet - 6.5 syns.
KFC Creamy Mash - 7.5 syns.
KFC Hot Wings - 4 syns a wing.
KFC Original Recipe Chicken Pieces - Average - 12 syns.
KFC Gravy - 3 syns.
KFC Popcorn Chicken - 7.5 syns.
KFC Boneless Banquet Box Meal - 46 syns.
KFC Corn Cobette - 4 syns.
KFC Fillet Burger - 24 syns.
KFC Zinger Burger - 22.5 syns.
KFC Flamin' Mini Wrap - 17 syns.
KFC Kansas BBQ Dipped Bite - 18.5 syns.
KFC Mini Fillet Burger - 14.5 syns.
KFC Original Recipe Chicken Piece - Drumstick - 8.5 syns.
KFC Kentucky Mayo Twister Wrap - 24.5 syns.
KFC BBQ Beans - 5 syns.
KFC Trilogy Box Meal with Pepsi Max - 57 syns.
KFC Mighty Bucket For One Meal - 58 syns.
KFC Coleslaw - 8 syns.
KFC Fillet Tower Burger - 31 syns.
KFC 3 Piece Boneless Dips Meal (1 Dip) - 35 syns.
KFC Original Recipe Chicken Piece - Thigh - 14 syns.
Tips For Ordering A Healthy KFC Banquet Meal
If you are craving a KFC but don't want to spend too many syns, there are some great tips for ordering a healthier kind of meal which we've listed below.
Choose chicken thighs - Chicken thighs are fattier than breasts, but they are smaller too, so chicken thighs are the better choice over breasts because you're getting a smaller portion size.
Be careful with the drinks - Juices and full-sugar drinks can add a huge amount of syns to your meals if you're not careful, opt for just water instead or a sugar-free diet soda.
Split the meal - KFC portions are very big so can often be split between more people than you think, reducing syns.
Skip the sauces - Sauces like mayonnaise, BBQ sauce and more are very high in calories and syns, adding extra syns to your meal that you don't need.
Go for veggies when possible - Having your KFC with a side of sweetcorn or green beans is a great way to keep your meal syn friendly rather than chips.
Our Best SW Recipe For KFC Chicken
If you're craving some KFC chicken but don't want to spend the syns, we've got a great syn friendly recipe for you to check out below which only has one syn and one healthy extra B a serving.
Ingredients
Three teaspoons of paprika.
Pinch of black pepper, mustard powder, celery seeds and basil.
Two eggs.
A teaspoon of oregano, salt, garlic salt, onion powder, thyme and ground ginger.
Eight slices of wholemeal bread are used as healthy extra B.
Cup of buttermilk.
Method
Start by putting the chicken in a bag with your buttermilk, leave for 6 hours or overnight, and then toast your wholemeal bread.
Heat your oven to gas mark 6 then blend the bread to make breadcrumbs, add the breadcrumbs and spices into a bowl, remove the chicken from the buttermilk and coat in your two eggs, then the breadcrumbs, spice and herb mix.
Place the chicken on a lined tray with some spray oil and bake for 45 minutes then serve!
Last Words
Overall, a KFC boneless banquet can be very high in syns, having up to 46 syns for one serving, to save syns we recommend choosing their smaller sized portions of meals, such as grilled chicken and green beans, rather than fried.
Alternatively, you can make your own KFC chicken at home which only has one syn and a healthy extra B!