Are Sultanas High In Syns? - Our Guide!
Fruits are typically regarded as a healthy snack, but what about dried fruits like sultanas? Are they a healthy snack in the slimming world?
Dried sultanas do have syns on the slimming world, they have 4 syns for 30g which is around a tablespoon, making them quite high in syns, we would suggest weighing out your portion of dried fruits to avoid spending too many syns.
Down below, we've discussed why Sultanas are high in syns, syn values, some other syn values of low syn alternative dried fruits and a slimming world recipe using sultanas!
Why Are Sultanas High In Syns?
You might be shocked to learn that Sultanas are quite high in syns, this is because they are high in sugar, having 19g of sugar in just 30g of sultanas, which is why they should be eaten sparingly in moderation.
Just having 60g of sultanas could cost you over half of your syn allowance and 40g of sugar which is above the recommended intake of 30g of sugar per day.
Syn Values Of Sultanas
Sultanas all have similar syn values no matter where you are buying them from, but it can be useful to know the syns according to the specific brand, we've listed some syn values to help you out below.
Aldi The Pantry Sultanas 500g - 4 syns for 30g.
Whitworths Sunshine Sultanas 325g - 4 syns for 30g.
Tesco Sultanas 500g - 4 syns for 30g.
Sainsbury's Sultanas 500g - 4 syns for 30g.
Asda Smart Price Sultanas 500g - 4 syns.
Essential Waitrose & Partners Sultanas 500g - 4.5 syns.
Lidl Belbake Sultanas 500g - 4.5 syns.
Low Syn Alternative Dried Fruits To Sultanas
All dried fruit on the slimming world needs to be synned since it's higher in sugar due to the processing, we've listed some other low syn alternative dried fruits for you to check out below.
Medjool Dates - 3 syns per date.
Whitworths Fruit Feasters Dried Mango Pieces 65g - 4.5 syns.
Tesco Goji Berries 100G - 4.5 syns.
Whitworths Sunny Raisin 18 Snack Packs 250g - 2 syns per pack.
Tesco Wholefoods Prunes 250G - 3.5 syns.
Whitworths Banana Chips 175G - 8.5 syns for 50g.
Aldi The Pantry Dried Apricots 500g - 2.5 syns.
Spare Fruit Air Dried Pear Crisps 22g - 4 syns.
Sainsbury's Apricots 40g - 3.5 syns.
Our SW Sultana Bites Recipe
If you've got a pack of sultanas lying around, you might be wondering how to use them in your baking, we've got a great SW recipe for you to check out below which only has 1 healthy extra B and 4.5 syns for four bites!
Ingredients
150g of pumpkin puree.
160g of oats.
Two teaspoons of baking powder.
Three eggs.
150g of fat-free Greek yoghurt.
140g of chopped apple.
30g of sultanas.
Drop of vanilla extract.
Pinch of cinnamon.
Pinch of salt.
Four spoons of maple syrup.
Method
Start by heating your oven to gas mark 4 then in a bowl add your oats, cinnamon, salt, and baking powder.
In another bowl, add your wet ingredients such as your eggs, pumpkin, syrup, yoghurt and vanilla extract, and mix in with the oats.
Pour the mix into a brownie pan which is greased then sprinkle your apple and sultanas on top, bake for 50 minutes then serve in 16 squares.
Last Words
Overall, Sultanas are a great fruit to have in the house for adding sweetness to baking or dishes like porridge, they should be used in moderation however since they are high in syns, having 4 syns for 30g and super high in sugar too.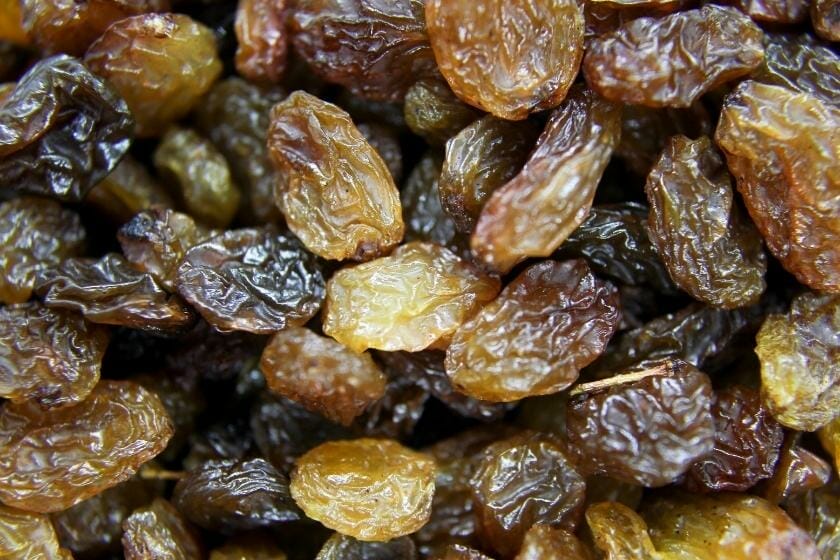 As an alternative, we recommend having fresh fruit which is syn free on the slimming world plan or a smaller serving size to help keep syns low.