What To Serve With Pot Noodles to Make Them Better
Pot noodles are a quick, easy and delicious meal option. They come in a variety of flavors and are perfect for when you don't have much time to prepare a meal.
But what do you serve with pot noodles to make them even better? This article will discuss some great side dishes that will help transform your pot noodle meal into something special. From vegetables to starches, there's something for everyone and every palate.
Not only can these sides enhance the flavor of your pot noodles, but they also provide additional nutrients, making the meal more balanced and nutritious. Read on for some delicious ideas on what to serve with pot noodles!
Salads
It's time to take the humble pot noodle to the next level!
The perfect accompaniment to a pot noodle is something fresh and crunchy, like a salad.
With just a few simple ingredients - fresh herbs, cream cheese, and whatever veggies you have in your fridge - you can create an amazing dish that will really make your pot noodles shine.
From shredded carrots and peppers to roasted broccoli and mushrooms, there are endless possibilities for adding some delicious crunch to your meal.
Plus, the vibrant colors of all those fresh veggies will brighten up any meal in no time.
Let's move on and explore how adding some vegetables can truly elevate your pot noodles.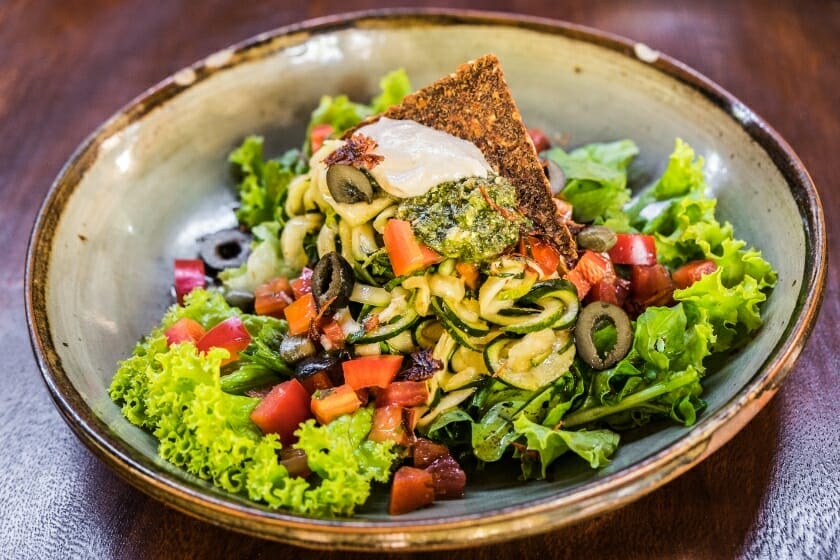 Vegetables
Salads are a great accompaniment to pot noodles, but there are other options as well.
Quick stir fries and roasted vegetables are both excellent choices that can be made in a short amount of time.
Roasting vegetables in the oven can bring out their natural sweetness, while quick stir fries allow you to get creative with your ingredients.
If you're looking for something more substantial than just vegetables, adding some protein toppings such as cooked meat or beans is an easy way to make your dish even more satisfying.
Protein Toppings
Adding a protein topping to your pot noodles is a great way to make them more filling and nutritious.
Grilled tofu slices, poached eggs, or even cooked shrimp are all excellent additions. You can even mix and match different protein toppings for variety.
For example, try adding some grilled tofu and a poached egg for a complete meal. All these protein toppings will pair nicely with the flavors of your pot noodles dish, making it even more satisfying!
To add even more substance to your meal, consider adding some starchy sides.
Starchy Sides
Crusty bread and fried rice are two delicious staples that pair wonderfully with pot noodles, giving the meal an extra boost of flavor and texture.
The crunch of crusty bread contrasts with the softness of fried rice, making a balanced meal.
Both can be served as a side to the noodles or mixed in for a heartier experience.
The possibilities are endless: from adding cheese to the top of the crusty bread to creating flavorful fried rice dishes with vegetables and spices.
These starchy sides not only make for a satisfying accompaniment, but they also make an ideal base for customizing your pot noodle experience.
With these two simple yet versatile options, you're sure to take your next bowl of noodles up a notch.
Now, let's explore some sauces and condiments to complete your dish.
Sauces And Condiments
When serving pot noodles, sauces and condiments can add a lot of flavor.
Spicy sauces like sriracha and chili oil can bring out the savoriness of the noodles, while herb seasonings such as basil or oregano can brighten up the dish.
These condiments are easy to find in most grocery stores and can easily be added to any pot noodle dish.
Adding a spoonful of these sauces or seasonings can quickly elevate your meal from ordinary to extraordinary!
Conclusion
In conclusion, pot noodles can be a healthy and delicious meal when served with a variety of sides.
Salads, vegetables, protein toppings, starchy sides, and sauces and condiments all work wonderfully to accompany them.
Some people might object that this still doesn't seem like enough food for a meal. But if you use the right ingredients and portion sizes for your side dishes, you'll have more than enough to fill up.
Plus, it's a great way to get a balanced diet full of vitamins and minerals. So go ahead - give pot noodles a try! You won't regret it!