What To Serve With Lasagne
Lasagne is a classic Italian dish that's been around for centuries. It's hearty, comforting, and highly versatile - you can make it with any number of ingredients. But one of the toughest questions to answer when it comes to making lasagne is what to serve alongside it.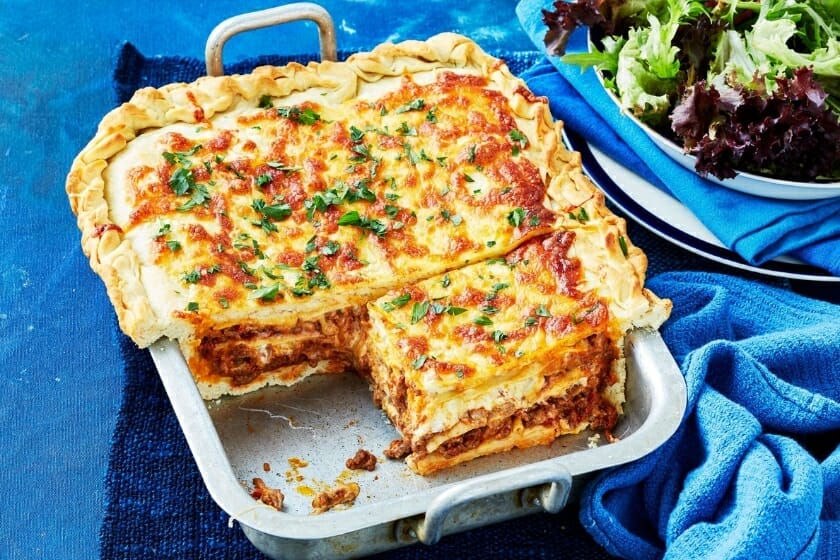 We're here to help! In this article, we'll explore some delicious side dishes that will pair perfectly with your lasagne. From fresh salads to crunchy vegetables, there are plenty of options to choose from.
Let's get started!
Roasted Vegetables
It's a universally accepted truth that lasagne is best served with roasted vegetables.
Braised artichokes, cheesy cauliflower, and other roasted vegetables are the perfect accompaniments to lasagne. Their flavor complements the richness of the cheese and tomato sauce in the dish.
Roasting brings out the natural sweetness in vegetables, and the crispness of each vegetable stands up to the texture of lasagne. Plus, it's an easy way to add a healthy side dish to your meal.
To make it even better, try adding herbs like oregano or thyme for an extra layer of flavor.
With all these reasons, it's no wonder roasted vegetables are a popular choice when serving lasagne!
Moving on from here, garlic bread is another great option when making a meal out of lasagne.
Garlic Bread
To round off the meal, garlic bread is a must-have side dish. The crunchy and buttery crust is perfectly complemented by a fresh herb topping.
Whether you bake it in the oven or toast it in the skillet, this dish adds a flavorful touch to your lasagne.
As for those looking for something green to accompany their meal, a light and refreshing green salad serves as the perfect complement.
With its zesty flavors, this salad offers a nice contrast to the creamy lasagne and garlic bread.
Green Salad
Accompanying lasagne with a green salad is a match made in heaven – one that you will never forget!
Packed with a rainbow of fresh vegetables and healthy alternatives, this simple side dish is sure to tantalize the taste buds.
From leafy greens to crunchy veggies, the possibilities for toppings are endless.
Add your favorite nuts, seeds, and legumes for a protein-filled meal, or sprinkle on some freshly grated cheese for an indulgent twist.
Not only can you customize the salad to your liking, but it's also the perfect way to add some extra nutrition into your meal without sacrificing flavor.
Transitioning seamlessly into the next course, it's time to move onto something just as delicious – tomato salad.
Tomato Salad
A colorful accompaniment to the lasagne is a tomato salad. Baked tomatoes are the key ingredient, providing a robust flavor and texture that stands up well to Italian spices, such as oregano, basil, and garlic.
This simple salad can be thrown together in minutes and makes a great side dish for any hearty Italian meal. The contrast between the tender roasted tomatoes and the crunchy greens gives this salad an extra boost of flavor and texture. Plus, it's a great way to take advantage of fresh summer tomatoes when they're in season!
With its delicious mix of flavors and textures, this tomato salad is sure to be an excellent addition to your lasagne dinner table. And for an extra touch of decadence, drizzle some aged balsamic vinegar over top.
Now let's move on to the next part of our meal: roasted potatoes...
Roasted Potatoes
After a delightful salad of tomatoes, it's time to move on to the next course: roasted potatoes!
These potatoes are truly fit for royalty. With their golden-brown skin, they're stuffed with flavorful herbs and spices that will tantalize your taste buds.
Whether you opt for mashed potatoes or stuffed potatoes, these little morsels are sure to deliver an exquisite experience.
You can even go the extra mile and add some sauteed mushrooms for a finishing touch before indulging in this mouthwatering delicacy.
Now, let's journey on to our final course...
Sauteed Mushrooms
A great accompaniment to lasagne are sautéed mushrooms.
To make them, start by sautéing an onion in olive oil until it starts to caramelize.
Add the mushrooms and let them cook down until they are slightly browned.
Combine a herb mixture of your choice, such as rosemary, thyme, oregano and garlic powder, and add that to the pan.
Cook for a few more minutes until everything is fragrant and the mushrooms have released their juices.
The combination of the caramelized onion and herb mixture with the earthy mushrooms will be sure to tantalize your taste buds when served alongside lasagne.
From here, we move onto roasted garlic, which provides another delicious flavor dimension to this classic Italian dish.
Roasted Garlic
The perfect accompaniment to lasagne is roasted garlic.
Roasted garlic has a unique sweet and nutty flavor, making it an ideal addition to the already flavorful dish.
Stuffed with minced herbs and spices, this type of garlic can be used as a topping to the lasagne or mashed into a creamy garlic aioli that adds a unique twist to the classic Italian dish.
For those looking for something extra special, one can even make their own stuffed garlic with their favorite combination of herbs and spices.
The possibilities are truly endless when it comes to adding roasted garlic to your lasagne.
With its distinctive flavor, this accompaniment is sure to bring out the best in any home-cooked meal.
And so, onto cheesy breadsticks...
Cheesy Breadsticks
The next perfect accompaniment to lasagne is a warm, cheesy breadstick.
Not only do these golden treats offer an extra layer of crunchy texture to the dish, but their thickness variations and herb combinations can be used to cater for any taste.
For example, you could opt for a thinner stick that has been heavily seasoned with oregano and basil, or you could choose something a little thicker that has been sprinkled with thyme and rosemary.
Whatever you decide, it's sure to make your lasagne even more delicious!
Conclusion
Lasagne is a classic Italian dish that can be enjoyed with a variety of sides.
Roasted vegetables, garlic bread, green salad, tomato salad, roasted potatoes, sautéed mushrooms, roasted garlic and cheesy breadsticks are all excellent accompaniments to lasagne.
These sides provide a unique contrast in flavors that truly bring out the savory and comforting taste of the lasagne. The crunch of the roasted vegetables and potatoes will add a delightful texture that will tantalize your taste buds!
So next time you prepare lasagne for dinner, don't forget to serve it with these amazing side dishes.
You'll be sure to impress your guests with this delicious Italian feast! And as they say: 'when in Rome, do as the Romans do,' so don't forget to add some of these tasty treats to your plate for an unforgettable culinary experience.
Bon Appétit!