What To Serve With Steak And Chips
Steak and chips is a classic dinner combination that many of us have come to love, but why not take it to the next level? With a few simple additions, you can transform this trusted favorite into an inventive and unique meal.
Our guide outlines what to serve with steak and chips so you can turn dinner time into something truly special. If you're looking for a way to add some flair to your usual steak-and-chips night, you've come to the right place!
We'll provide ideas on how to mix up your regular dinner routine with fresh flavors and textures. Whether you're in the mood for something savory or sweet, we've got options that will tantalize your taste buds and bring your steak-and-chips dinner up a notch.
Sauces And Condiments
Ah, steak and chips. Nothing quite says 'Sunday dinner' like this classic combo. But if you're looking to take your steak and chips to the next level, there's only one way to do it: sauces and condiments!
From zesty chimichurri to rich, creamy béarnaise, these flavor-packed accompaniments will give your meal that extra 'oomph' you need.
If you want a touch of heat with your entrée, why not try a spicy salsa or pepper sauce? If subtle sweetness is more your style, a simple honey glaze or cranberry chutney can do wonders for both steak and chips alike. And for a classic twist on this timeless dish, why not whip up a batch of classic gravy or mushroom sauce?
No matter what flavors tickle your fancy, sauces and condiments are an easy way to bring some excitement to any plate. So don't be afraid to get creative—your taste buds will thank you!
With that in mind, let's move on to the next section: vegetables.
Vegetables
Vegetables are a great accompaniment to steak and chips. They can be cooked in many different ways, from steamed to stir-fried. You could also include a variety of vegetables in your meal – carrots, mushrooms, broccoli or Brussels sprouts for starters. You can also combine them with spices and herbs to create delicious flavours. If you're looking for something a bit more indulgent, why not try roasting your vegetables? With the right seasoning and fat, it can bring out their natural sweetness and flavour.
Roasted vegetables are both tasty and nutritious – a great addition to any steak and chips meal!
Salads aren't just light summer fare; they can make a fantastic accompaniment to steak and chips too. From colourful coleslaws to zesty bean salads, adding some crunchy greens is sure to liven up your meal. And with all the different salad dressings available, you'll be able to find one that perfectly complements the steak and chips.
Whether you're after something creamy or tangy, there's bound to be something for everyone's taste buds – so don't forget about salads when planning your next steak dinner!
With so many options available, it can be daunting trying to decide what goes best with steak and chips. But by considering all the possibilities – from roasted veggies to zingy salads – you'll be able create an exciting plate of food that everyone will enjoy!
Now onto the next topic: salads.
Salads
Nothing goes better with steak and chips than a delicious salad. Whether you're looking for lighter fare or something to add a little crunch to your meal, there are plenty of salads that fit the bill.
Here's what you need to know about topping off your steak and chips with the perfect salad:
* Choose a bright mix of flavors – Try combining bitter greens like kale or endive with sweet fruits like oranges and apples, savory nuts like walnuts or almonds, and crunchy vegetables like cucumbers and radishes.
* Include a creamy dressing – Whether it's ranch, blue cheese, or something more exotic like honey mustard, add a drizzle of dressing for an extra burst of flavor.
* Add texture – Croutons can provide some crunch, but why not try something different? Toast pepitas, sunflower seeds, or sesame seeds in the oven for a few minutes to add some nutty flavor and texture.
We all know that salads come in many shapes and sizes — so don't be afraid to get creative! With these tips in mind, you're sure to find the perfect accompaniment for your steak and chips.
Now let's explore the world of sides...
Sides
A classic steak and chips dish calls for a side that complements the main course.
A simple green salad is always a great option to add some freshness, crunch, and nutritious elements to the meal. To make it even more special, top it with some olives, feta cheese, and croutons. Add a light vinaigrette or balsamic dressing to complete the salad.
For a heartier side dish, why not try a veggie-loaded gratin? Layer potatoes, bell peppers, mushrooms, onions, and garlic in an oven-safe baking dish. Top with your favorite cheese and pour over a creamy bechamel sauce before baking until golden brown.
The result is a delicious accompaniment that pairs wonderfully with steak and chips.
To balance out the heavier elements of this meal, why not include something light yet flavorful like roasted asparagus? Drizzle fresh asparagus with olive oil and seasonings of your choice before roasting in the oven until crisp-tender.
This easy side dish adds bright colors and subtle flavors to every plate.
With these sides on hand, you can guarantee your steak and chips dinner will be a hit!
These accompaniments help bring out the best in this hearty meal – now let's move onto desserts!
Desserts
The flavors of steak and chips can be likened to a symphony of deliciousness, as they blend together in harmony. To truly enjoy this delightful duet, it is important to add the right accompaniments.
Sides are the perfect way to enhance the richness of this meal, adding subtle notes that bring out the best in both components. A simple green salad with some creamy avocado dressing can provide a refreshing contrast to the savory steak and potato chips. Adding a side of roasted vegetables brings an earthy flavor that complements the dish while helping to round out its nutritional content. A selection of steamed vegetables like carrots, broccoli, and cauliflower also helps add crunch and texture to the meal.
Once you've finished your steak and chips, take your enjoyment up another notch by indulging in something sweet for dessert. A rich chocolate cake is sure to please any sweet tooth and pairs perfectly with a cup of coffee or tea. Alternatively, try some homemade cookies or fudge brownies for a classic treat that will top off the meal nicely.
Conclusion
A steak and chips dinner is a classic combination. It's simple, but it can still be delicious.
To make the meal even more enjoyable, there are plenty of options for sauces, sides, and desserts to serve with this dish. You could start with some condiments like mustard or horseradish for added flavor.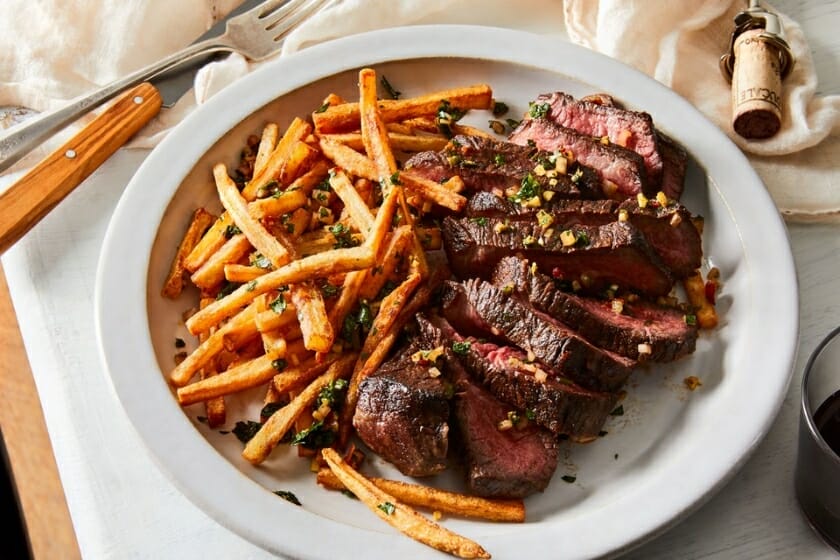 Vegetables like asparagus or roasted carrots are a great accompaniment. Salads also make a nice addition to the plate. And don't forget about sides like mashed potatoes or macaroni and cheese!
For a sweet finish to the meal, try something light like fruit salad or ice cream sundaes. All in all, steak and chips can be elevated to an exciting culinary experience with just a few thoughtful additions.
After all, variety is the spice of life!