What To Serve With Pork Roast
When it comes to planning a dinner party, the main dish is always the star of the show. But what's a star without a supporting cast? Whether you're looking for something to serve alongside your classic pork roast, or want to switch things up with something new and innovative, there's no shortage of delicious sides that are sure to impress.
Let's take a look at some creative and tasty accompaniments that will take your pork roast from ordinary to extraordinary! It's time to think outside the box when it comes to serving up something special with your roast. With so many amazing options available, you can let your culinary creativity run wild.
From roasted potatoes and seasonal vegetables to hearty stews and risottos, there are plenty of delicious dishes that pair perfectly with pork roast. No matter what you choose, your guests will be in for a flavorful surprise!
Roasted Potatoes
Roasted potatoes are a classic accompaniment to pork roast. They are easy to prepare and offer a delicious, crispy texture.
Slice the potatoes into cubes and season with garlic, rosemary, and salt. Then, place onto a baking sheet lined with parchment paper and spread out evenly. Bake in the oven for about 45 minutes at 375°F or until golden brown and crispy.
The potatoes will pick up all of the savory flavors from the herbs and spices that you used to season them - providing your guests with an incredibly tasty side dish! The great thing about roasted potatoes is that they can be made ahead of time, so if you're hosting a large group for dinner, you won't have to worry about timing everything correctly.
Plus, they go perfectly with pork roast – making it an ideal choice for your meal. This classic dish is sure to be a hit at your next gathering! With its easy preparation and delicious flavor profiles, roasted potatoes are an excellent addition to any menu featuring pork roast.
Seasonal Vegetables
A well-seasoned pork roast is like a symphony of flavors, a masterpiece of savory juices and aromatic herbs. Every bite is an orchestral journey that tantalizes the senses and brings pleasure to the palate. To complete this grand performance, the perfect accompaniment must be found.
Seasonal vegetables are a colorful and flavorful complement to the succulent pork roast that will truly make it shine. Roasted carrots and parsnips tossed with olive oil, rosemary, and garlic bring out the natural sweetness in the meat while also providing a crunchy contrast to its tenderness.
Steamed Brussels sprouts or green beans add vibrant color and earthy flavor, creating an inviting palette for any dinner plate.
Rounding out the ensemble are potatoes, either boiled or mashed. Boiled potatoes can be left whole or cut into chunks to be added to a salad or roasted with herbs for a classic side dish. Mashed potatoes provide a creamy texture that balances out the crispy edges of roasted vegetables and pork crackling alike – adding an additional layer of indulgence to this delectable meal.
With these seasonal vegetables in tow, one can expect nothing less than perfection when serving up a delicious pork roast.
Hearty Stews
Nothing pairs better with a warm, savory pork roast than a hearty stew. In the cold winter months, these stews can become particularly comforting and filling. Stews are also widely customizable and can easily be made to fit any dietary needs or restrictions.
Here are five of our favorite hearty stews to serve with a pork roast:
* A classic beef stew with chunks of potatoes, carrots and celery
* An Italian-inspired chicken stew with tomatoes, onions and mushrooms
* A creamy white fish stew with leeks, fennel and saffron
* A smoky black bean stew spiced with cumin, oregano and chili flakes
* A vegan lentil stew packed with roasted vegetables
These stews provide a delicious accompaniment to the pork roast that will leave your guests feeling full and satisfied. The best part is that you can make most of them ahead of time so all you have to do on the day of is heat up and enjoy. By adding some fresh bread or mashed potatoes, you'll have an unbeatable meal for any night of the week.
Shifting gears from hearty stews to risottos now! Risottos are known for their creamy texture and rich flavor that comes from slowly simmering Arborio rice in broth or stock.
Risottos
Risottos, with their tantalizing textures and creative combinations of flavors, are one of the most beloved Italian dishes. They can range from simple to complex, depending on the ingredients used.
When it comes to pairing a risotto with a pork roast, the possibilities are endless. Let's explore some of them!
The first risotto that comes to mind is the classic combination of mushroom and Parmigiano-Reggiano, which complements the pork roast perfectly. The earthy flavor of the mushrooms helps to enhance the flavor of the pork while also adding a unique texture that helps to bring out its succulence. Additionally, the nutty taste of Parmigiano-Reggiano adds an extra layer of complexity to this dish.
For something more adventurous and unexpected, try making a risotto using truffles, garlic and shallots. This indulgent dish is sure to be a hit with your dinner guests! The richness of truffles pairs wonderfully with the flavor of pork while garlic and shallots add valuable depth and complexity. Serve it alongside your roast for an unforgettable culinary experience!
With these delicious options, you're sure to create an exquisite meal that will leave your family or dinner guests in awe! From classic combinations to more adventurous creations – there's something for everyone when it comes to serving risotto with pork roast.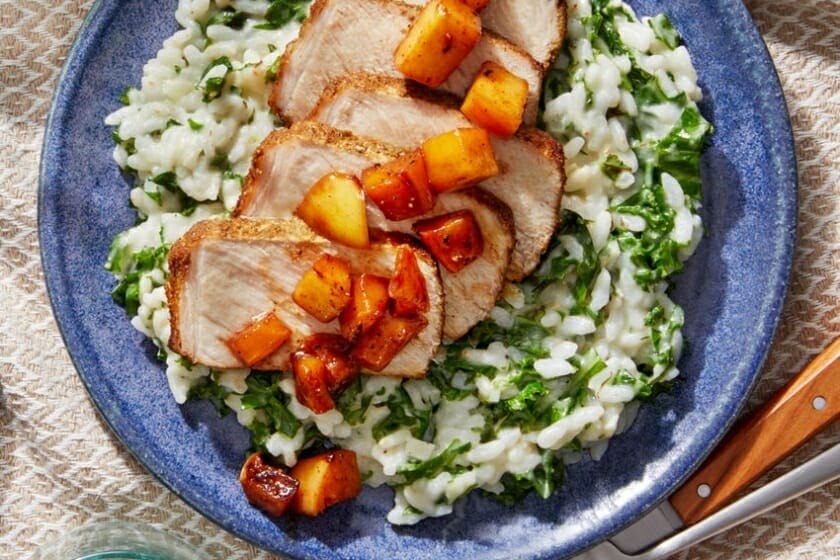 Now let's turn our attention towards creating some creative salads that will make this meal even more special...
Creative Salads
A tasty and creative accompaniment to a pork roast is a salad. Not only will it add some crunch and texture to the meal, but salads are also one of the most versatile side dishes there is.
Here are a few ideas for putting together unique, delicious salads that will complement your pork roast perfectly:
- Fresh fruits: Apples, oranges, pears and other seasonal fruits can be sliced or diced and added to a bed of lettuce with a light vinaigrette dressing.
- Beans: Canned beans such as chickpeas or kidney beans are an easy way to add protein and color to any salad. Add some fresh herbs or spices for extra flavor.
- Veggies: Carrots, peppers and onions are all great additions to any salad. Roast them in the oven first for an extra flavorful kick.
- Nuts & Seeds: A handful of walnuts or pumpkin seeds adds texture and flavor as well as healthy fats.
- Cheese: A sprinkle of feta or goat cheese adds richness, depth and creaminess that elevates any salad dish.
These simple ingredients can be combined in countless ways for interesting salads that will delight your guests. By adding just one of these elements, you can transform an ordinary bowl of greens into something extraordinary!
Whether you're looking for something light and refreshing or hearty and filling, there's sure to be a combination that fits your needs – so get creative in the kitchen!
Conclusion
The perfect accompaniment to a juicy pork roast can be found in the variety of side dishes available. Roasted potatoes, seasonal vegetables, hearty stews, risottos and creative salads are all fantastic options that can provide a colorful and delicious experience.
I'm sure you'll find something to please even the pickiest of eaters.
When it comes to sides for pork roast, the sky's the limit! With so many tasty options, why not go hog wild and try a few dishes?
You'll be able to serve up a feast worthy of an old-fashioned Sunday dinner that your guests will remember for years to come.