What To Serve With Chicken Goujons
Chicken goujons are a great dish for any occasion. Whether you're hosting a dinner party, throwing a summer barbecue, or just looking for an easy weeknight meal, chicken goujons are sure to please.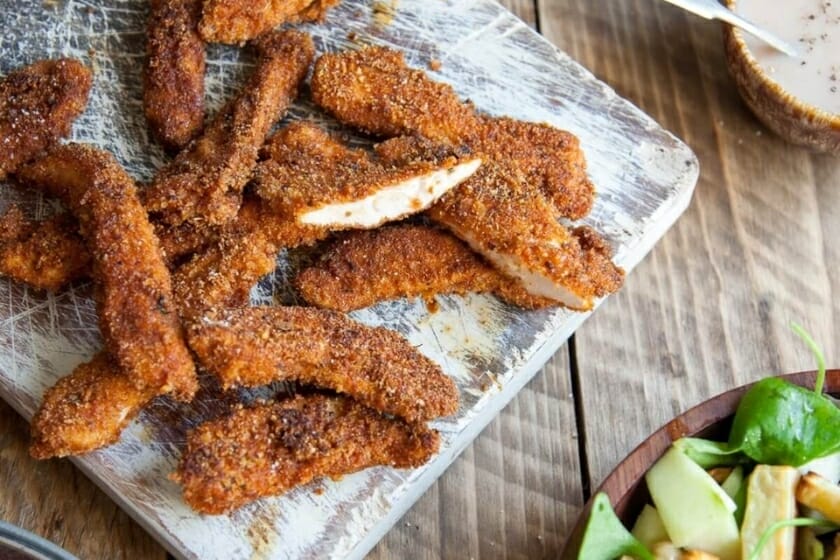 But what should you serve with them? In this article we'll provide some delicious accompaniments to help you create the perfect meal. From salads and potatoes to sauces and sides, there's something for everyone.
So read on to find out how to make your chicken goujons stand out!
Salads
As a summer day comes to life, the sun rises over the horizon and sets the stage for a delicious meal.
The chicken goujons are sizzling in the oven, and it's time to pick the perfect side dish. Grilled salad is a great choice — it has that same warm, smoky flavor as the chicken, but with an added crunch from some fresh vegetables.
A kale salad is another classic option that pairs beautifully with chicken goujons. The kale provides a nice contrast in texture and color, while its slight bitterness complements the salty flavor of the chicken perfectly.
With these two options on the menu, your guests will be sure to enjoy their meal!
Now let's explore what potatoes can bring to this dish.
Potatoes
To accompany chicken goujons, potatoes are a great choice. Whether you decide to bake them, fry them, or mash them up, they make a delicious side dish that pairs well with the chicken. Here are some potato options to consider when serving chicken goujons:
Baked Potatoes: A classic favorite among many households. Baked potatoes can be topped with sour cream and chives, cheese, bacon bits, or butter - whatever your heart desires!
Mashed Potatoes: These potatoes are creamy and comforting. You can add butter, salt and pepper for flavor, along with any other seasonings you would like!
French Fries: Who doesn't love french fries? Whether you opt for the classic thin cut fries or thick steak fries, they're sure to be a hit at the dinner table.
Potato Wedges: Preparing potato wedges is fairly easy and requires less time than baking potatoes in the oven. Simply cut large potatoes into wedges and season with salt, pepper and spices of your choice before frying them up in a skillet.
Home Fries: An alternate way of preparing cubed potatoes is to sauté them in a pan with some oil or butter until lightly browned on all sides. This is an ideal way to prepare home fries while getting creative with seasoning combinations!
With so many tasty potato options to choose from, you're sure to find something everyone will enjoy alongside their chicken goujons. Sauces provide another layer of flavor that can really bring the meal together...
Sauces
Chicken goujons are a great choice for any meal. They can be cooked in a variety of ways, from frying to grilling and baking.
To compliment the flavors of chicken goujons, there are many sauces that can be served alongside them. Grilling techniques such as braising, barbecuing, or char-grilling can help bring out the flavor of the sauces and marinades. Flavors such as honey mustard, balsamic vinegar, teriyaki, and tzatziki are just some of the options for marinades that can really enhance the taste of chicken goujons. The possibilities for delicious combinations with these sauces and marinades are endless. With so many choices available, it's easy to find something that everyone will enjoy.
Vegetables are another great accompaniment to chicken goujons. They provide an array of color and texture to any plate while adding nutritional value to the meal. Not only that but vegetables also provide additional flavor when paired with a variety of sauces and marinades too!
Vegetables
Sauces can make a great addition to chicken goujons, but don't forget about the vegetables! A great way to add flavor and texture to this dish is by adding fresh herbs and stir fry vegetables.
Here are a few ideas to get you started:
1. Roasted red peppers
2. Sautéed mushrooms
3. Grilled asparagus
4. Steamed broccoli
Vegetables offer an array of colors, flavors, and textures that will bring your dish to life and make it even more enjoyable. Get creative with vegetables and try combining different flavors to create your own unique twist on this classic dish!
With so many options available, you'll never run out of ideas for side dishes. Now let's take a look at some breads that pair perfectly with chicken goujons!
Breads
Breads are a great accompaniment to chicken goujons, providing a crunchy and flavorful complement. Think of the whole grain breads and toasted buns as the frame for the masterpiece you are creating with your meal. They provide texture and flavor that can truly elevate your dish.
In fact, some people might even say that the bread is the star of the show! When selecting breads to serve with your chicken goujons, look for ones that have seeds or nuts in them - this will add another layer of texture and flavor.
You could also try using a variety of different types of breads – sourdough, rye, etc. – to create an interesting mix. Whatever you choose, make sure it's fresh and won't overpower the other flavors in your dish.
The right bread can make all the difference when it comes to enjoying a delicious meal!
Frequently Asked Questions
What Temperature Should The Chicken Goujons Be Cooked At?
The best way to cook chicken goujons is to bake them at 375°F for about 15-20 minutes, depending on their size.
Baking allows the marinade recipes to really get into the chicken, giving it a delicious flavor.
You could also fry them in oil or butter over medium heat, flipping them occasionally until they are golden brown and cooked through. However, baking is the healthier option.
How Long Should The Chicken Goujons Be Cooked For?
Time is of the essence when cooking chicken goujons - they require an exacting eye to ensure they're cooked just right.
Meal planning ahead of time is essential, as it takes a careful touch to get the cooking time right.
On average, you should cook your goujons for around 10 minutes, but this can vary depending on the size and thickness of your pieces.
To make sure your goujons are cooked through and delicious every time, be sure to check their internal temperature with a thermometer.
Can Chicken Goujons Be Frozen And Reheated?
When it comes to meal planning and storing tips, chicken goujons are a great option as they can be frozen and reheated.
This means that you can take advantage of bulk buying and prepare them ahead of time, so they're ready to serve when needed.
To freeze, lay the cooked goujons on a baking sheet and place in the freezer until solid. Then move them to an airtight container or freezer bag for easy storage.
Reheat by placing on a baking sheet and into the oven at 350°F for 10-15 minutes until heated through.
Is There An Alternative To Deep Frying The Chicken Goujons?
Deep frying may be a classic way to cook chicken goujons, but what about an alternative?
Absolutely! Oven baking and air frying are two incredible options that offer just as much crunch and flavor - without the excess oil and fat!
Perfect for those looking to make a healthier version of this classic dish, these methods will have you enjoying delicious chicken goujons in no time.
So why wait? Let's get cooking!
Is There A Way To Make The Chicken Goujons Healthier?
If you're looking for a healthier option to serve with your chicken goujons, consider substituting traditional deep fried versions with plant-based alternatives or baked variants.
Plant-based substitutes such as seitan or tofu can be cooked in a variety of ways, including baking, and can provide a delicious alternative to deep frying.
Baked versions of chicken goujons are also possible: simply coat the goujons in egg and breadcrumbs before baking them in the oven until golden brown.
Conclusion
The chicken goujons can be a delicious addition to any meal. When cooked properly, they are crispy and golden on the outside and juicy on the inside. I suggest cooking them at 350 degrees for 15-20 minutes; opting for baking or air frying instead of deep frying is a great way to make them healthier.
Serving the goujons with sides such as roasted potatoes, steamed vegetables, or a fresh salad will bring out the flavor of this dish.
You can also pair it with sauces like tartar sauce or honey mustard for added flavor and texture.
Try something new today and enjoy your chicken goujons with a variety of delicious sides!