Burgers are a staple of the American diet, and for good reason. They're delicious, easy to make and incredibly versatile.
But when it comes to what to serve with burgers, there's no one-size-fits-all answer. Whether you want something classic or a dish with a modern twist, we've got you covered with some creative ideas that will take your burger night up a notch!
From classic sides like fries and coleslaw to creative alternatives like sliders and sweet potato waffles, we'll help you discover the perfect accompaniment for your next burger feast.
Let's get cooking!
Classic Burger Sides
Nothing says summer like a juicy burger fresh off the grill, and there are many classic sides to accompany it.
Fries are always a favorite, with their golden, crisp exterior and fluffy interior - they're hard to resist!
For those looking for something light and refreshing, a crisp tossed salad with creamy dressing is sure to delight.
And you can never go wrong with a side of sweet potato chips - their salty crunch is the perfect complement to any burger.
What about something different?
Creative alternatives can add an exciting twist to your next cookout.
Think beyond the basics and try out some new flavors – how about grilled corn on the cob or onion rings?
For those who want something more substantial, macaroni and cheese is always a welcome addition.
Or perhaps jalapeno poppers would add just the right amount of spice?
No matter what you choose, these delicious alternatives will take your meal from ordinary to extraordinary in no time!
Creative Alternatives
When it comes to burgers, we all know that the classic combo of fries and a soda is always a safe bet. But why not take things up a notch and explore some creative alternatives?
A healthier option:
Start with a leafy green salad
Add in some fresh fruit slices or roasted vegetables
Finish off with a light dressing like balsamic vinaigrette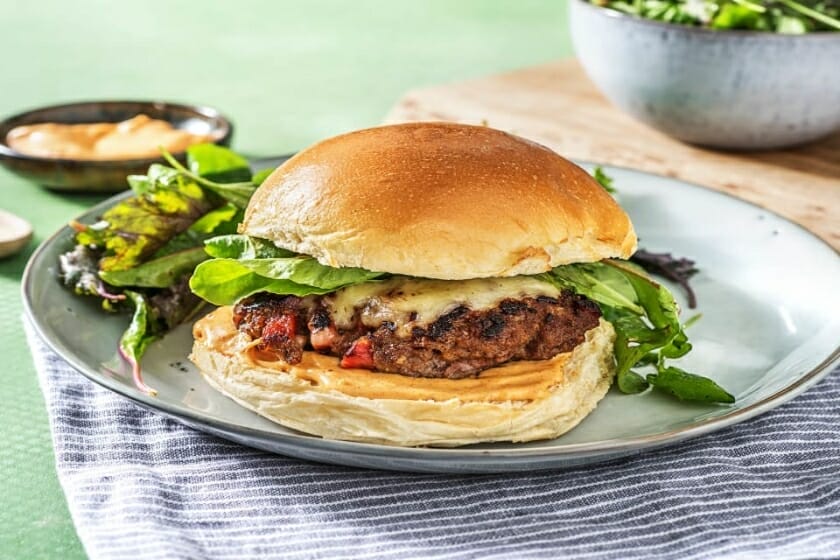 Something more indulgent:
Whip up some onion rings for an extra crunch
Bake some sweet potato wedges for an added sweetness
Throw in a cup of chili cheese fries for added tanginess
An international twist:
Try out some poutine from Canada
Spice things up with Mexican street corn
Put together an Italian-inspired caprese burger salad
No matter which route you decide to take, adding something new to your meal can really make the experience special.
Now let's move away from the traditional sides and look into some vegetable-based options.
Vegetable-Based Sides
Vegetable-based sides don't have to be boring! With a bit of creativity, you can serve up something unique and delicious that pairs perfectly with your burgers.
Start by slicing some fresh vegetables, like tomatoes, onions, bell peppers, and mushrooms. Sauté them in a skillet with a little oil and seasonings for a flavorful side dish. You can also roast vegetables in the oven—try mixing potatoes, carrots, garlic, and thyme for an aromatic dish that'll add an extra layer of flavor to your meal.
If you want something lighter on the side, consider making a veggie-based salad or slaw. For a simple salad, combine lettuce and other leafy greens with cucumbers and tomatoes for a fresh taste. Or whip up an easy slaw using cabbage, carrots and apples in a light vinaigrette dressing.
No matter which one you choose, these vegetable-based sides will add color to your plate while giving your guests something healthy to enjoy along with their burgers.
For even more variety at the table, try adding some pickles or jalapeño peppers—or both! Pickles are the perfect complement to any burger, while jalapeños give it an extra kick of spice without overpowering the flavor. So don't forget to include these crunchy additions when you plan what to serve with burgers!
As we transition into salads and slaws, explore how these two dishes offer unique flavors that will make your next cookout memorable.
Salads And Slaws
Salads and slaws are the perfect accompaniment to burgers. Whether it's a classic green salad or a more creative option like an Italian-style chopped salad, salads offer a great way to add freshness and crunch to your burger meal. Slaws, on the other hand, bring a tangy flavor and creamy texture that pairs perfectly with burgers.
Here's a list of four flavorful salads and slaws you can serve with burgers:
* A simple green salad made with mixed greens, tomatoes, cucumbers, and radishes
* A Caesar salad featuring romaine lettuce tossed with a roasted garlic dressing
* An Asian-inspired slaw made with cabbage, carrots, bell peppers, and cilantro in a sesame ginger vinaigrette
* A Mexican-style coleslaw made with shredded cabbage tossed in lime juice and chili powder
These salads and slaws are sure to please even the pickiest eater! And why not get creative by adding your own twist? With so many possibilities for pairing these tasty sides with burgers, there's no limit to the deliciousness you can create.
Sauces and condiments are another way to add unique flavors to your burger meal – let's explore those next!
Sauces And Condiments
Following a delicious burger, it's time to explore the realm of sauces and condiments!
Sauces and condiments bring out the flavor of burgers even further. From ketchup to mayo, honey mustard, BBQ sauce, and everything in between, adding a dollop or two is like sprinkling a little bit of magic on top.
The possibilities are truly endless when it comes to sauces and condiments. For those who want to keep it classic, ketchup and mayonnaise will do the trick. If you're feeling a bit more daring why not try some hot sauce or horseradish?
The heat will add a unique twist to your burger that will make your taste buds dance with delight. Vegans and vegetarians can also join in on the fun with vegan-friendly sauces such as vegan ranch dressing or tahini sauce.
However you choose to dress up your burger, sauces and condiments are sure to bring out its flavor even further. So don't be afraid to get creative; you may just discover something new that will leave your mouth watering for more!
Conclusion
To conclude, there are countless options for sides to serve with burgers. From classic sides like fries and coleslaw, to more creative alternatives like macaroni salad or sweet potato wedges, the possibilities are endless.
You can also choose vegetable-based sides like roasted broccoli or grilled corn on the cob. Salads and slaws offer lighter options, while sauces and condiments add flavor.
Plus, up to 80% of burger orders include fries in the United States according to a 2019 survey by NPD Group – so you know they're a popular choice!
I hope these suggestions give you some ideas for your next burger night at home.