What Potatoes To Serve With Chicken Kiev - Find Your Inspiration Here!
Chicken Kiev is a classic dish that is sure to please any dinner crowd. But what potatoes should you serve with it? The right potato side dish can make all the difference in the overall flavor of your meal. In this article, we'll discuss several different potatoes to serve with Chicken Kiev and give tips on how to prepare each one for maximum flavor.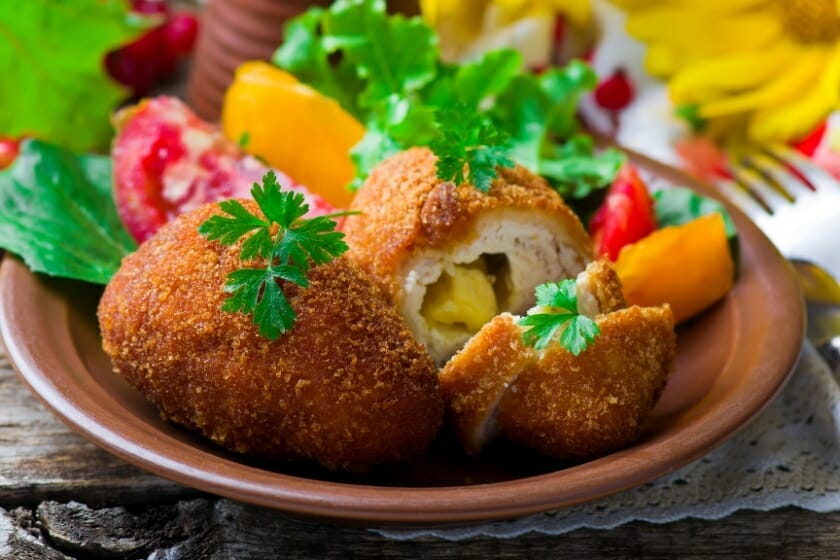 The first potato side dish to consider is mashed potatoes. Mashed potatoes are creamy, buttery and provide a great contrast to the crunchy exterior of Chicken Kiev. Plus, they are easy to prepare -- simply boil some potatoes until they are tender, mash them up with butter and cream, add salt and pepper, and voila!
The second option is roasted potatoes. Roasted potatoes are golden brown on the outside with a soft interior, making them an excellent accompaniment for Chicken Kiev. To make roasted potatoes perfect for your meal, cut them into wedges or cubes and toss them in oil with your favorite spices before roasting. This will give them an added layer of flavor that pairs nicely with Chicken Kiev's rich filling.
Roasted Potatoes
Potatoes are like a blank canvas, waiting to be painted with flavor. Roasted potatoes are the perfect accompaniment to chicken kiev. To prepare them, simply cut potatoes into cubes or wedges and place in a bowl. Drizzle with olive oil and sprinkle with salt, pepper, and any other desired herbs or spices. Spread the potatoes on a baking sheet and bake for about 30 minutes at 400F, flipping halfway through. Serve alongside the chicken kiev for a flavorful, hearty meal that will satisfy any appetite. The crisp outer layer of the roasted potatoes pairs beautifully with the creamy filling of the chicken kiev - it's an unbeatable combination!
Mashed Potatoes
Mashed potatoes are a classic accompaniment to chicken kiev. They bring a creamy, buttery flavor to the dish and provide a delicious contrast to the crispiness of the outside of the chicken. Potatoes also help fill up your plate with something heartier than just a piece of chicken. To make mashed potatoes, you'll need potatoes, butter, milk or cream, salt and pepper. Peel and cube the potatoes before boiling them in salted water until tender. Once boiled, mash them together with butter, milk or cream and seasonings. If desired, you can finish with some freshly chopped chives for garnish.
The key to perfect mashed potatoes is making sure not to overwork them. Doing so will result in a gloopy texture that nobody wants! With this simple recipe and technique you can be sure of serving up light and fluffy mashed potatoes every time - perfect for pairing with your Chicken Kiev dinner!
Potato Pancakes
Potato pancakes are a delicious accompaniment to chicken kiev. They pair especially well with the rich garlic butter sauce that is usually served over the dish. The combination of creamy, buttery flavors and crispy potato pancakes creates a savory balance that is difficult to beat. To make them even more delicious, serve them with a dollop of sour cream or plain Greek yogurt on top. You can also top them with some fresh chives or herbs for added flavor and texture.
For an extra crunchy texture, shred the potatoes before frying them in oil until they're golden brown and crispy. This will give your pancakes an extra level of crunch that will add more complexity to your meal. Serve these alongside chicken kiev for an unforgettable dish that everyone at the table will love!
Baked Fries
Putting it plainly, baked fries are an excellent accompaniment to chicken kiev. Nothing beats the combination of buttery chicken and crispy potatoes. To make sure your fries come out perfectly golden and crisp, start by preheating your oven to 425°F (220°C). Cut your potatoes into thick slices - the thickness of a quarter is ideal - and toss them in oil, salt, and pepper. Spread them out on a baking sheet lined with parchment paper and bake for 25-30 minutes, flipping halfway through. For extra crunchiness, sprinkle some breadcrumbs or Parmesan cheese over the fries before baking. When the timer goes off, you'll be rewarded with perfectly crunchy fries that are sure to hit the spot!
Wedges
Wedges are a great option when serving chicken kiev. These potato wedges are cut into thick slices and then fried in oil, resulting in a crispy exterior and fluffy interior. The combination of the crunchy exterior with the creamy inside makes them an ideal partner to chicken kiev. Additionally, they can be seasoned to add extra flavor. Wedges pair well with sauces - like herb mayonnaise or garlic butter - making them even more enjoyable. Moreover, wedges take less time to cook than other types of potatoes, allowing for fast preparation and serving time.
Moving on, gratin is another excellent way to serve potatoes with chicken kiev.
Gratin
Gratin is a classic side dish to serve with Chicken Kiev. It's a simple recipe that combines potatoes, cream, and cheese for a scrumptious accompaniment. With its crunchy top layer and creamy center, gratin can be an excellent addition to any meal.
When making gratin, it's important to use the right type of potato. You'll want to choose a starchy potato like russet or Idaho that will hold its shape even after baking. Cut the potatoes into thin slices, then layer them in a baking dish with cream and your favorite cheese. Bake until golden brown and serve alongside Chicken Kiev for a delicious meal.
Conclusion
We've discussed some delicious potatoes that are the perfect accompaniment to your chicken kiev. Roasted potatoes, mashed potatoes, potato pancakes, baked fries, wedges and gratin - each one a unique and tasty way of sprucing up your dinner plate.
No matter which one you choose, these potatoes will bring a smile to your face with their creamy texture and scrumptious flavor! You can't go wrong when you serve up any of these mouth-watering side dishes alongside your chicken kiev. Your guests will be delighted with these amazing sides that will tantalize their taste buds and leave them wanting more.
If you're looking for something special to serve with your chicken kiev, then look no further than these flavorful potatoes. They'll make your meal something truly special and give you an unforgettable culinary experience! So don't hesitate - get creative in the kitchen and start cooking up some of these delectable dishes today!