Are Frys Turkish Delight Bars High In Syns?
One of the best advantages to dieting in the slimming world is that you can eat food you want, even your favourite chocolate bar, but they do have to be factored into your 15 syn daily allowances.
Frys Turkish delight bars have 9 syns per one bar, making them very high in syns. This means it's best to eat them as an occasional treat in moderation.
We've put together a guide below which will explain why Frys Turkish Delight bars are so high in syns, the other syn values of Fry's chocolate bars as well as some low syn Turkish Delight chocolate bar alternatives. We've also thrown in an SW low syn recipe for your Turkish delight!
Why Are Frys Turkish Delight Bars High In Syns?
You might be shocked to learn that Frys Turkish Delight bars have 9 syns per one, this is because they are very high in sugar, having 33g per bar.
They are also covered in milk chocolate which is high in fat due to the milk inside. Only two Frys Turkish Delight bars would cost you 18 syns which is over your daily syn allowance, therefore we would suggest trying out lower syn alternative chocolate bars.
Frys Chocolate Bar Syns
Frys have a few other chocolate bars if you find their Turkish Delight version to be too high in sugar and syns, we've listed the rest of their values down below.
Frys Chocolate Cream - 10 syns a bar.
Frys Peppermint Cream - 10 syns a bar.
Frys Orange Cream Chocolate - 10 syns a bar.
Fry's Turkish Delight, Lemon (51g bar) – 9 1/2 syns.
Fry's Raspberry Cream Chocolate Bar (49g bar) – 10 syns.
Fry's Strawberry Cream Chocolate Bar – 10 syns.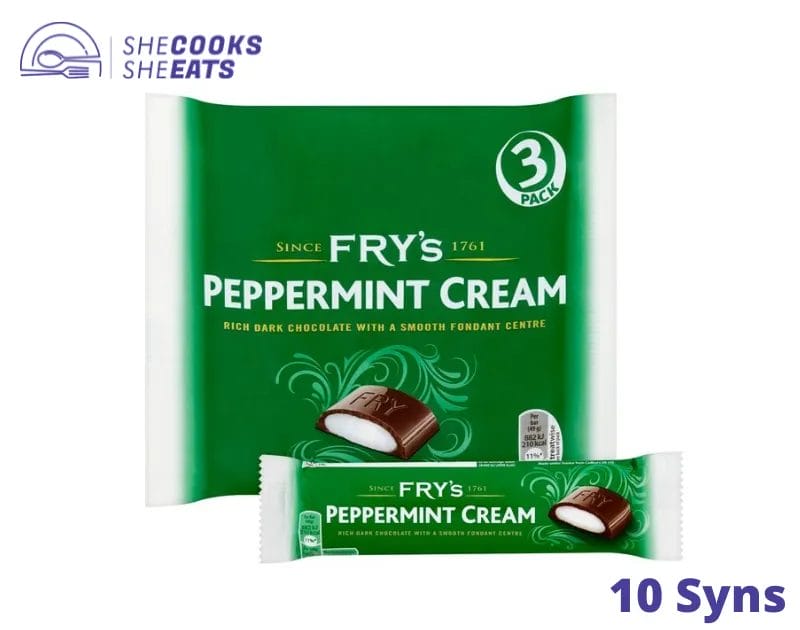 Low Syn Alternatives To Fry Turkish Delight Bars
Turkish delight chocolate bars can often be very high in calories due to their extra high sugar content, there are some low syn alternatives available on the market, however.
Tesco Turkish Delight Bar 150G - 6 syns for three squares.
Tesco Turkish Delight Thins Carton 200G - 4.5 syns for two.
M&S Turkish Delight 350g - 3 syns per one.
General Chocolates
Toblerone Fruit & Nut (35g bar) – 8 1/2 syns.
Nestle Kit Kat Chunky, Orange - 8 syns.
Toblerone White 360g bar (per triangle) – 9 syns.
Kinder Chocolate Bar (21g snack) – 6 syns.
Mars Bar (21g bar) – 4 1/2 syns.
Milky Way Bar (21.5g bar) – 5 syns.
Guylian Belgian Chocolate Original Praline Bar (35g bar) – 9.5 syns.
Green & Black's Dark Chocolate Bar with Hazelnuts & Currants (15g bar) – 4 syns.
Lindt Swiss Luxury Chocolate Selection (each) – 3 syns.
Lindt Salted Caramel Milk Chocolate Lindor Balls (each) – 4 syns.
Lindt Strawberries & Cream White Chocolate Lindor Balls (each) – 4 syns.
Nestle Aero Milk (27g bar) – 7 1/2 syns.
Nestle Lion Bar (30g bar) – 7 1/2 syns.
Nestle Aero Caramel Mousse Bar (34g bar) – 9 1/2 syns.
Slimming World Turkish Delight Recipe
This Turkish Delight recipe is a great alternative to the high syn sweet and chocolate bars, it only has 3.5 syns for all of them!
Ingredients
One sachet of no sugar raspberry jelly.
Rosewater.
Two sachets of gelatin.
One packet of Cadburys highlights.
Cocoa flavouring.
Method
To start make up your jelly and gelatin then add in your rose water and whisk together.
Put the mixture in the ice cube tray then freeze for 15 minutes and make up your chocolate sachets with gelatin.
Pour this on top of your ice cubes then freeze again for about an hour, store in the fridge and eat!
Should I Eat Frys Turkish Delight Bars On Slimming World?
Overall, Frys Turkish Delight bars are very high in syns and should only be eaten now and then as an occasional treat, to save syns we suggest making your Turkish delight or choosing a lower syn alternative from our list above when you are craving something sweet!