Are Cocktails High In Syns On Slimming World? - Our Ultimate Syn Guide!
If you are going out for drinks on the weekend, you don't want to ruin all your progress on the slimming world plan by going over your syn allowance, cocktails in particular can be high in syns depending on the drink you choose.
Cocktails have a variety of syns according to the kind of drink you choose, this could be anything between 6-12 syns for one cocktail, making these drinks very high in syns, so we suggest having cocktails in moderation.
Down below, we've composed a syn guide, taking you through why cocktails are so high in syns, some syn values of cocktails, syn values of other alcohol and a few recipes for making your own SW-friendly cocktails.
Why Are Cocktails So High In Syns?
At 6-12 syns for one cocktail, these drinks are very high in syns, meaning you should have them in moderation on a night out. Cocktails are high in syns and calories due to all the added ingredients and mixers which often add a lot of sugar to drinks.
For example, some cocktails like a pina colada have pineapple juice and coconut milk which are high in fat and sugar, totalling 12 syns for just one pina colada. To save syns we suggest picking cocktail options which have reduced sugar like a martini for example.
Syn Values Of Cocktails
Cocktails have varying syn values according to the kind that you choose, we've listed some popular types along with their syn values below to help keep you on track.
Strawberry Daiquiri - 12 syns.
Espresso Martini - 11.5 syns.
Negroni - 10 syns.
Martini - 6 syns.
Espresso Martini - 11.5 syns.
Whisky sours - 8 syns.
Negroni - 10 syns.
Pina Colada - 12 syns.
Aperol Spritz - 8 syns.
Margarita - 10 syns.
Low Syn Alternative Alcohol Options
If you find cocktails to be too high in syns, there are plenty of other low-syn alcohol options to choose from on a night out.
We've listed a few to choose from down below.
Limehouse Aromatic Gin and Diet Pink Tonic - 3.5 syns for 250ml.
Navigator Gin and Ginger Rhubarb flavoured - 8 syns per can.
Lidl Rachmaninoff Vodka, Lime and Soda - 4 syns per can.
Kopparberg Gin Slimeline Strawberry and lime flavour - 3.5 syns a can.
Sainsbury Gin and Tonic - 7 syns for a can.
Fosters 550ml - 7.5 syns.
San Miguel 330ml - 8 syns.
Alfie Vodka, Lime & Lemonade - 6.5 syns a can.
Harry Bromptons Ice Tea with Vodka Citrus Flavoured - 5 syns for a 250ml can.
Smirnoff Vodka Cola - 9 syns per drink.
Tesco Grain Vodka Lime and Lemonade - 3.5 syns per can.
Sparkling Rose - 4.5 syns.
Cava brut - 5 syns.
Sainsbury's Vodka Lime and Soda - 6 syns a can.
Alcohol-free sparkling wine - 1.5 syns.
Alcohol-free sparkling rose - 1.5 syns.
Lambrini - 3 syns.
Whiskey - 3 syns for 25ml.
Kombucha - 1 syns.
Tesco Finest Prosecco Doc 75Cl - 4 syns.
Hens tooth 500ml - 14.5 syns.
Guinness Original 440ml - 8 syns.
Greene King IPA 500ml - 8.5 syns.
Rum 35-40% - 2.5 syns for 25ml.
Gin - 3 syns for 25ml.
Vodka - 3 syns for 25ml.
Bucks fizz - 3.5 syns.
Old speckled hen 500ml - 11.5 syns.
Our Best SW Recipes For Cocktails
If you're craving a cocktail, one way to save syns is by making your cocktails at home, we've listed a few SW-friendly recipes down below to enjoy.
Slimming World Mojito
Ingredients
A handful of mint.
One lime cut into eight pieces.
Two shots of white rum.
Four ice cubes.
Teaspoon of sweetener.
280ml of soda water.
Method
Begin by placing 6 pieces of the lime in a shaker, add your mint and sweetener then mash them together. Now add in your rum and shake.
Crush your ice up then put them in a long glass, strain your rum mixture into the glass, pour in the soda water and add the remaining mint and lime to the glass.
Slimming World Cranberry Margarita
Ingredients
150ml of cranberry juice like Ocean Spray.
50ml of tequila.
Four limes.
Crushed Ice.
Ice Cubes to help with mixing.
Method
Add all your ingredients into a cocktail shaker, shake then serve over the crushed ice with some fresh cranberries and sprigs of mint!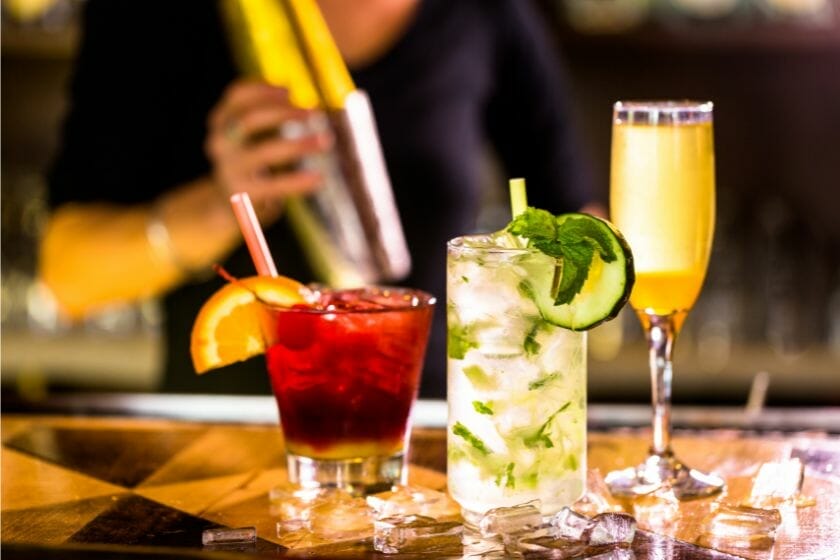 Last Words
Overall, cocktails are very high in syns, having on average between 6-12 syns for one drink, this is because of all the added ingredients from juices, mixers and creams. To save syns, we suggest picking low-syn alternatives drinks and mixers like gin and slimline tonic, or, try making your own SW versions of cocktails at home!