What To Serve With Hunters Chicken
Hunters chicken has become a popular dish in recent years, and it's easy to see why. With its smoky-flavored grilled chicken breast, creamy cheese sauce, and crunchy bacon topping, it's a delicious meal that's sure to satisfy even the pickiest eaters.
But what should you serve with hunters chicken? Well, don't worry - we've got you covered! In this article, I'll be sharing some of my favorite side dishes to pair with hunters chicken for a complete and flavorful meal. Whether you're hosting a dinner party or looking for an easy weeknight dinner idea, these sides will make your hunters chicken shine (check our article on what to serve with salt and pepper chicken).
From roasted vegetables to creamy mashed potatoes, I'm sure you'll find something here that will please everyone at the table! So let's get cooking!
Roasted Vegetables
Roasted vegetables are the perfect accompaniment to a delicious hunter's chicken.
The secret to creating a flavorful, robust roasted vegetable side is to use the right combination of spices and herbs. For example, rosemary, thyme, garlic powder, paprika, and oregano all work well together.
Additionally, roasting vegetables at a high temperature helps create a crispy texture that adds texture and flavor. When it comes to roasting tips, one of the key elements is to make sure your vegetables are evenly coated with oil before adding your chosen flavor combinations.
To finish off your roasted vegetable side dish for hunters chicken, add a sprinkle of fresh parsley for an extra layer of flavor.
With these simple guidelines in mind, you'll be able to create an amazing roasted vegetable dish that will pair perfectly with hunter's chicken!
Creamy Mashed Potatoes
Creamy mashed potatoes are the perfect accompaniment to any dish, and they are especially delicious when served with hunters chicken.
For a lighter version, try using low-fat milk and non-dairy substitutes like coconut milk or almond milk to achieve a creamy texture without all the calories.
To add flavor, top your mashed potatoes with chives, shredded cheese, garlic butter or even a dollop of sour cream.
Serve your hunters chicken with a generous helping of creamy mashed potatoes for an unforgettable meal!
Baked Beans
A plate of hunters chicken is like having a warm, comforting hug on a cold winter's day - and the perfect accompaniment to such a meal is a side of baked beans.
As they bubble away in the oven, their spicy aroma fills the kitchen with anticipation.
When served up, these delicious beans are bursting with flavor, and make a great addition to any dinner table.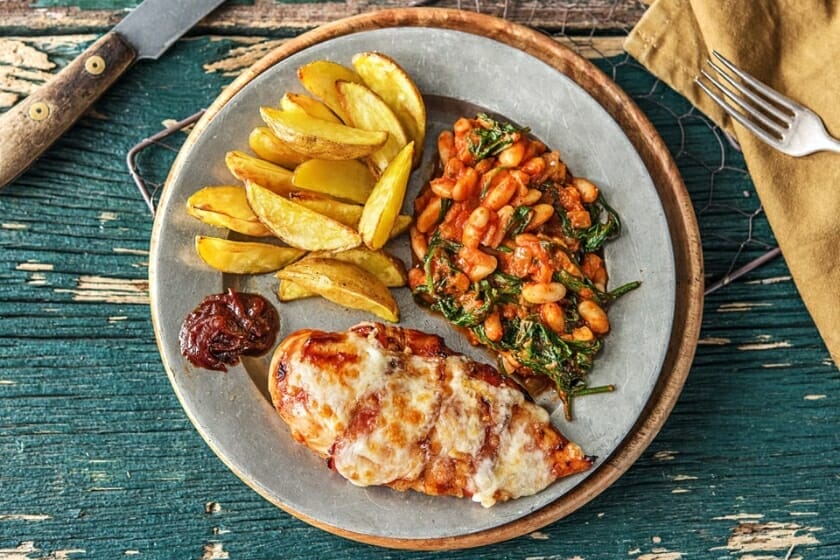 They can also be incorporated into bean salads for added crunch, adding an extra layer of texture that complements the chicken perfectly.
With its meaty goodness and subtle hint of spice, hunters chicken is sure to be enjoyed by all - and served alongside some baked beans, it's an unbeatable combination!
Grilled Corn
Grilled corn is a great accompaniment to Hunters Chicken, and with a few simple ingredients you can create a flavorful side dish.
Start by brushing ears of corn with olive oil and seasoning them generously with salt and pepper.
Place the corn on the grill, turning frequently until lightly charred.
To take this dish up a notch, try adding grilled salsa to the mix!
Serve the grilled corn alongside your Hunters Chicken for an extra burst of flavor.
Finally, for a truly indulgent meal, top the chicken off with a cornbread stuffing that combines sweet kernels of grilled corn with melted butter and herbs.
Baked Sweet Potatoes
For a warm, comforting side dish to serve with hunters chicken, try baked sweet potatoes.
This simple yet flavorful dish features sweet potatoes cut into cubes before being tossed in olive oil and spices including cumin, garlic powder, and smoked paprika.
The sweet potatoes are then baked until golden brown and crispy.
For an extra layer of flavor and crunch, serve the baked sweet potatoes alongside buttery garlic bread and a fresh fruit salsa.
The combination of the savory potatoes with the crunchy garlic bread and zesty salsa will add a burst of flavor to any meal.
Enjoy!
Sauteed Spinach
After baking the sweet potatoes, it's time to move on to some sautéed spinach.
Begin with fresh green beans and roasted garlic cloves in a hot skillet with some olive oil. Cook the green beans until they are tender and fragrant and then add the spinach, turning it often so that it wilts evenly.
A few minutes of sautéing will leave you with a flavorful side dish that pairs perfectly with hunters chicken. The bright freshness of the green beans is complemented by the subtle sweetness of the roasted garlic, making this an ideal accompaniment to any meal.
Now, let's move onto another classic side dish: rice pilaf.
Rice Pilaf
Hunter's chicken is a hearty dish that pairs best with something light and refreshing.
Rice pilaf is the perfect accompaniment to this classic dish, as it has a nice subtle flavor with the perfect amount of texture from the rice and vegetables.
To give it an extra burst of flavor, add in some seasonal fruit for sweetness and a touch of fresh pesto pasta for zest.
This combo will provide a great balance to the savory flavors of hunter's chicken and make your meal complete.
Transitioning nicely into the next course, why not try adding in some salad greens for added crunch?
Salad Greens
The perfect accompaniment to hunters chicken is a crunchy slaw and herbed couscous.
For the slaw, mix together shredded cabbage, red onion, and a tangy vinaigrette dressing - for an extra punch of flavor try adding in some freshly-squeezed lemon juice. The bright flavors will cut through the richness of the chicken and bring out its unique taste.
Meanwhile, herbed couscous adds a lightness to the plate with its nutty, earthy notes and fluffy texture. To make it even more special, throw in some cherry tomatoes, olives, and feta cheese - all bound together with some fragrant herbs like parsley or mint.
A side dish of this caliber can truly elevate any hunters chicken dish into something memorable!
Conclusion
In conclusion, hunters chicken is a delicious dish that can be served with a variety of sides.
For the perfect meal, try roasted vegetables, creamy mashed potatoes, baked beans, grilled corn, and baked sweet potatoes. To add some greenery to the plate, sautéed spinach and salad greens go nicely together. Finally, tie it all together with a flavorful rice pilaf – this will really give your meal the icing on the cake!
For those looking for an extra special touch to their dinner party menu, hunters chicken is sure to hit the spot. The combination of savory flavors and textures make it an easy crowd pleaser - it's sure to have everyone licking their lips in anticipation!