Our Best Mushroom Pate Recipe
Lots of people shy away from making homemade pate as it can often seem a little intimidating to make, and with so many shop-bought pates available at the supermarkets, it's hard to see a need to make your own.
However homemade pate is not only healthier but much more tasty and fresh in comparison to shop-bought versions, pate is also very easy to make and requires no special equipment. 
Just make sure you have a blender or food processor of some sort to blend the pate ingredients together.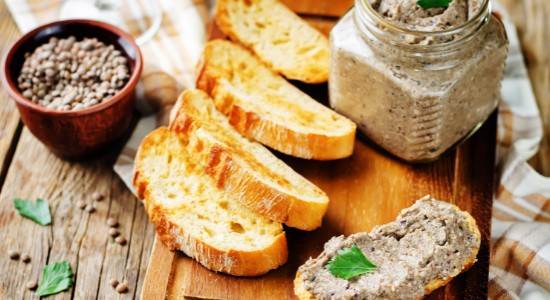 Why We Love This Mushroom Pate
This mushroom pate recipe below is very simple to make and is a great way to use up any extra mushrooms you have lying around too.
The pate is also very light and can be added to sauces to make a mushroom cream sauce or simply enjoyed as a spread on bread.
Where Did Pate Come From?
Pate traditionally is part of the French cuisine and tends to be associated with wealth, this spread used to be served inside of pies or bread, however, now the spread can be served on its own and ate on top of crackers or bread.
Pate is usually made of blended meats or seafood, but veggie alternatives can be made too.
Types of Pate
There are many variations of pate out there, from straight forcemeat (where the fat and the meat is ground separately) to country-style pate which tends to use pork and have a more chunky consistency.
We have listed out some further types you might come across below -
Pate Chaud - Pate Chaud tends to be served hot and has a crust outside to the pate. This pate is usually made from either; beef, chicken, or pork and is often found in Vietnam.
Pate Grandmere - This type of pate is very chunky and is made from three different types of meat such as; bacon, boneless leg and liver.
Pate De Campagne - Pate De Campagne is very cheap to make as it uses inexpensive cuts of meats and has a chunky consistency.
Pate en Croute - If you are looking to eat your pate more substantially then you should try it en croute which means inside a pie or bread. This dish traditionally was used to keep meat from going bad and was made from pork and veal.
Pate Lorraine - This is a classic pate which has a crust covering and a pork filling, it can be eaten hot or cold depending on your preference.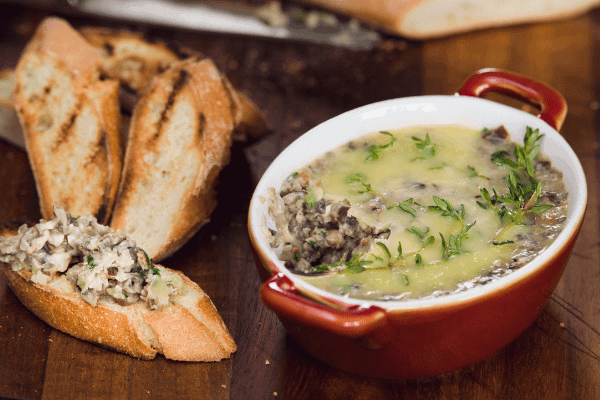 Our Mushroom Pate Recipe
What you need to know
Preparation time - 10 minutes
Making time - 10 minutes
Serving size - 10-12 for canape
Ingredients
250g of mushrooms
35g of butter
4 garlic cloves
250g of cream cheese
Seasoning
The Making
Wash and chop your mushrooms into very fine pieces.
Take the 35g of butter and heat it over medium heat in a non-stick frying pan.
Add in your mushrooms and garlic then fry till soft, this should take around 10 minutes in total.
After your mushroom and garlic mixture has cooled, you can then add them into a food processor and blend them up until smooth.
Now you can add your cream cheese and continue to blend it with mushrooms until it forms a smooth paste. Season to taste.
Keep refrigerated and allow the pate to sit for at least a couple of hours so as the flavour can develop.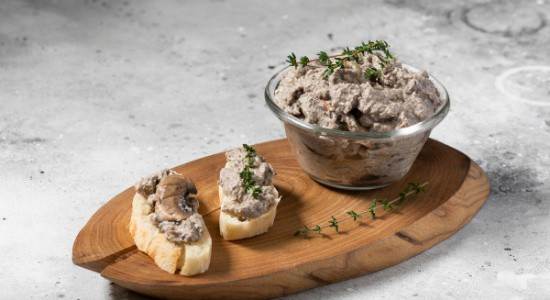 Our Best Serving Tips For This Recipe
Leave it to infuse - Pate is best tasting after it's been left for a couple of hours or a day after making, this allows any oils or flavouring such as garlic to be infused in the pate. You should also allow your pate to set in the refrigerator after making.
Serve with gherkins - Cornichons or gherkins are perfect to serve with pate and can add great texture and acidity to a meat or vegetable pate, they can be eaten as an accompaniment or cut up and put on top.
Make it an appetiser - Serve your homemade pate with crackers or on some toasted baguette as an appetiser, you could also fill some mini pastry with this pate for a more special look and serve at a gathering or an event.
Have it for lunch - Pate can be easily spread on to toast for a filling lunch with some gherkins or cheese and pickles, along with a crunchy salad, making it a great picnic summer lunch.
Try pate en croute - Pate en croute is pate cooked inside of a pastry or bread and can be served warm as a meal, this meal is fairly easy to make with a homemade pate and just requires some pastry dough.
Our Final Words
Overall, anyone of any cooking level can make pate, no matter if you make a seafood, chicken liver, or veggie pate such as this mushroom recipe, most pates can be whipped easily in just an hour and can provide lunches and snacks in your house for up to a week.
Let us know in the comments below if you try out this mushroom pate or any variations.
Happy pate making!