Recently, Dr. Oetker sent me a couple of their new Surprise Inside Cupcake Centres. Being contrary, I immediately made chocolate choux buns with them. I still have one left and should probably make some filled cupcakes with them at some point, but right now I'm still riding the wave of glory/sugar from the choux buns.
What's a choux bun, you ask? Well, it's when a profiterole doesn't go quite right.
These buns were utterly delicious and certainly went down very well at work (I had several colleagues pout at me because they'd disappeared so quickly that not everyone got to try one), but they weren't quite profiteroles. A little too big, I think. But that's okay. Double chocolate choux buns have all the taste and flavour of double chocolate profiteroles, there's just more of them. That's not a bad thing.
So, you get lovely crisp pastry shells filled with a dark chocolate goo that oozes out and hits you straight on the back of the tongue when you bite into them. Then on the top, just for a little added sweetness, is white chocolate. I love the combination of dark and white chocolate – one is so bitter and one is so deliciously sweet, they play off each other so nicely. It's like chocolate fudge cake and vanilla ice-cream. Coffee and caramel. It just works.
You can, of course, use a normal ganache to fill these buns, but I actually quite liked using the Dr. Oetker Surprise Inside Cupcake Centres. I used Rich Chocolate and it tasted lovely, and it was very easy to use. Literally was a case of insert into the bun and squeeze until full. I tend to really struggle with ganache, so it was perfect.
Recipe below. Enjoy!
DOUBLE CHOCOLATE CHOUX BUNS
Delicious buns, full of rich chocolate ganache and dipped in lush white chocolate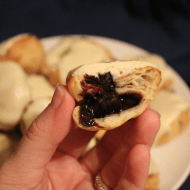 4 teaspoons of caster sugar
90g of unsalted butter
120g of plain flour, pre-sifted
Three beaten eggs
Salt
100g of white chocolate
1 quantity of ganache
Heat the sugar and butter in a large saucepan over a low heat with 200ml of cold water. Stir gently until the butter has melted
Turn up the heat to high. Quickly pour in the flour and a pinch of salt. Remove the pan from the heat and beat everything together vigorously until it forms a smooth paste which comes away from the side of the pan. Transfer to a large bowl and leave to cool for 15 minutes
Preheat the oven to 200C and line two baking trays with greaseproof paper
Beat the eggs into the batter a little at a time until the mixture is smooth and glossy. Using a plain nozzle, pipe this mix onto the baking tray in little blogs. Use a wet finger to rub the top of each ball
Put the baking trays into the oven and bake for 25-30 minutes until golden brown
Remove from the oven and pierce the base of each bun with a knife. Put back in the oven for five minutes
Leave to cool, then fill the buns with the ganache. Melt the chocolate and dip the buns into the top