Aubergine parmigiana is one of the best food gifts given to the world by the Italian community. It is easy to make and doesn't require your physical presence the whole time the dish is cooking. This makes it a time-conscious food choice for people with no time to spare in the kitchen.
Although Americans popularized the trend of alternating the aubergine parmigiana with meat, that wasn't the original recipe. The several layers of aubergine, tomato, and cheese give you a hearty cheat meal bursting with flavor. If you have been on the search for healthy meal options to make for your vegetarian visitors, look no further as this recipe is it. It will take you less than an hour to make, and the results are delicious.
Why is this dish so popular?
Aubergines first emerged in Sicily before the people of Campania discovered it and added mozzarella. People have been adding on things until it became the meal we know today. Part of its popularity is because it can be enjoyed by people of all dietary preferences.
The name parmigiana arises from the famous Italian deep-fried layers of eggplant baked with layers of tomato sauce and cheese. Over time people started adding different ingredients hence the name Aubergine parmigiana.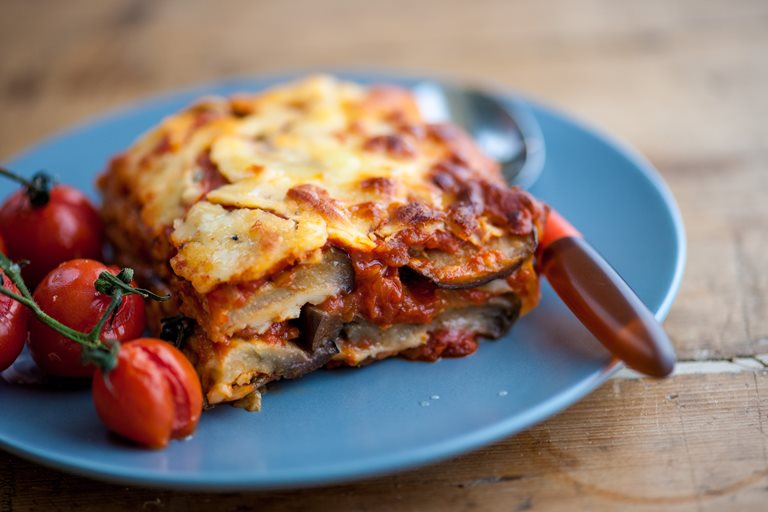 Ingredients(serves six)
This dish contains around 530kcal per serving. trust me; those calories will be worth it so long as you eat with a side of vegetables. Nothing is better than a cheat meal recipe you will remember for days.
For the Aubergine;
2tbsp of olive oil
3 large aubergines, thinly sliced
2 ounces of crushed sea salt, 3 tbsp black pepper, 2tbsp paprika
200g Grated Parmesan(substitute with hard cheese if vegetarian)
200g mozzarella
200g Ricotta
150g breadcrumbs
parmigiana eggplant
For the tomato sauce;
2 garlic cubes, ground to a paste
3 red onion, finely diced
2 tbsp dried oregano
200ml red wine
10 fresh basil leaves, finely chopped
3 spoon of olive oil
salt to taste
Method of preparation;
Preheat the oven to about 220 c, gas setting 7
Remove the stalks then make aubergine slices of about 1mm.
Hit your non-stick pan/girdle/barbecue grill then spray on some olive oil. Fry the aubergines in batches so that each side turns a light brown.
Whisk your eggs in a mixing bowl and then add water breadcrumbs, oregano, grated Parmesan, crushed sea salt, and paprika.
Dip your browned aubergines in the mixture and make sure they are well coated then bake for five minutes.
Get a large frying pan and throw in your red onions with a dash of oil, cook until the onions turn golden brown then add in your garlic paste.
Next step add your chopped tomatoes and when they have cooked enough pour in your 200ml of red wine along with your chopped basil leaves. Cook for about 10 minutes until it starts to simmer.
now for your parmigiana, take an ovenproof dish and line the inside with some parchment. Add in a layer of tomato sauce then follow with some remainder basil.
layer on a pile of Parmesan cheese followed by the baked aubergine slices. continue making layers as you follow the above order until all your aubergines and tomato sauce is used up.
Garnish with a generous amount of mozzarella cheese followed with the remaining Parmesan. Feel free to add any remaining dry spices for a tasty crust.
Plop the dish in the oven for about 20-25 minutes and remember you shouldn't close the lid. Bake until the cheese starts to bubble or turn brown and your aubergine parmigiana will be ready.
Serve this dish hot with a side of fresh garden salad, potato wedges or steamed vegetables with a sprinkle of black pepper.
Note
You can use animal rennet cheese as an alternative to mozzarella and Parmesan
Try substituting aubergines and basil with courgettes and flannel for a new experience.
Can you reheat aubergine parmigiana? very easy. Just heat it in the microwave for five minutes then add some black pepper to taste.
Add melanzane to the tomatoes for extra flavor
you can skip the part where my aubergine bake. (It's only useful if you want your aubergines to be crispy)
Email us on our website and subscribe/follow for forthcoming recipes, food content and great tips.
Pro-tip; Cook a lot of it so you can reheat the leftovers for days.